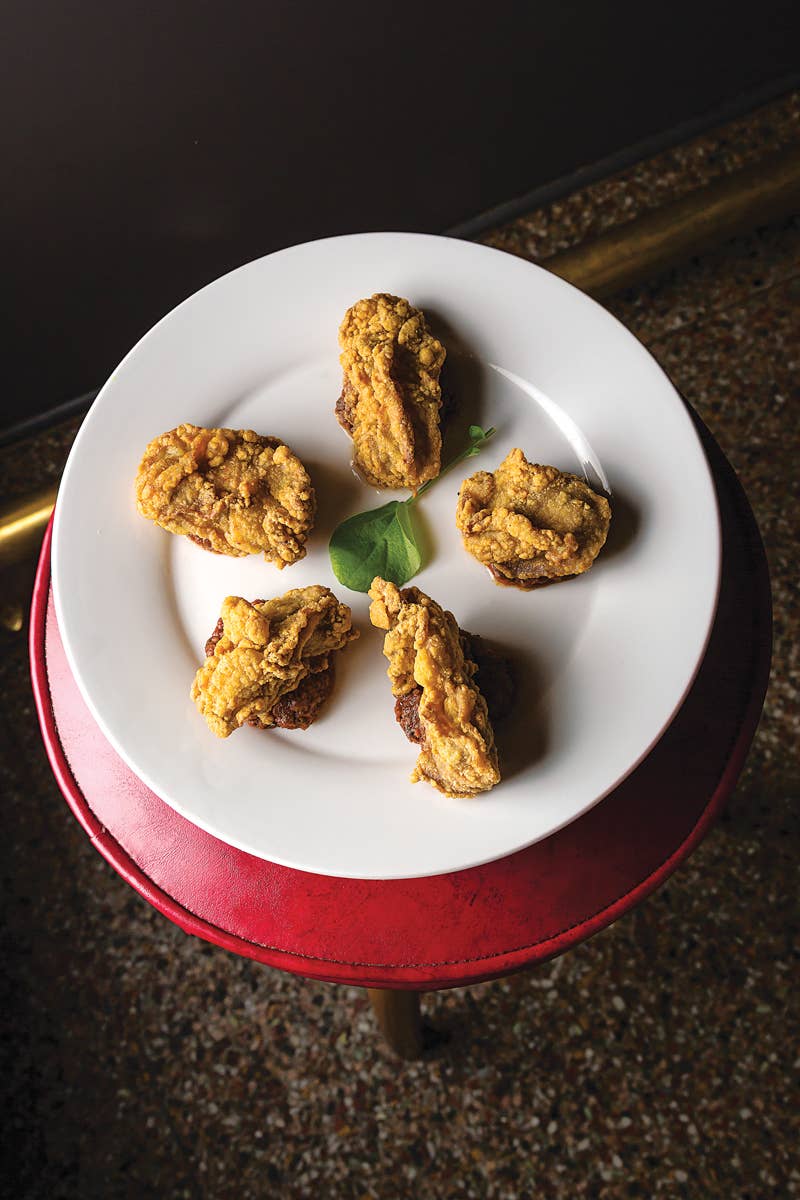 Recipes
David Bridges' Oysters St. Claude
"If you don't love life you can't enjoy an oyster; there is a shock of freshness to it and intimations of the ages of man, some piercing intuition of the sea and all its weeds and breezes," wrote American author Eleanor Clark. Here David Bridges, chef at Upperline Restaurant, New Orleans, shares his personal recipe for oysters St. Claude. This recipe first appeared in the iPad edition of our April 2013 issue along with Lolis Eric Elie's article New Orleans.
SERVES 6 CLOSE FRIENDS OR 8 PEOPLE FROM OUT OF TOWN
1 stick unsalted butter
3 tbsp. paprika
Juice and zest of 1 lemon
½ bunch of flat leaf parsley disciplined a few times with a knife
1 cup whole garlic cloves
1 ½ tbsp. Crystal hot sauce
1 ½ tbsp. Tabasco
3 tbsp. Worcestershire
Salt
Sugar
4 cups corn flour
Fat for frying
3 cups of oysters
Loaf of French Bread
FOR THE ST. CLAUDE SAUCE:
Place the butter, paprika, and the zest and juice of the lemon that you liberated from your neighbor's tree in a bowl. The depth of flavor that emancipation lends to Creole cooking should not be overlooked. Take your cumbersome food processor out of the pantry and add the butter mixture and the parsley, garlic, both hot sauces, Worcestershire, and twice the pinch of salt as the sugar. Process the mixture into a paste. Add your garlic paste to the small pot and place the pot over a low flame. Gently poach the mixture, never letting the bubbles rising from the bottom of the pot get angry. Constantly stir the pot to avoid any sticking and scorching. Over time the mixture will become dark red. This will take any responsible citizen about the same amount of time as drinking two glasses of decent Alsatian wine. Set aside and let the mixture cool to room temperature. Skim off any of the vibrant red fat that may accumulate at the top of the sauce.
TO FRY THE OYSTERS:
In a deep fryer or a decent Dutch oven, place enough canola or lard that your common sense tells you is enough to deep-fry some bivalves. Heat the fat to 350°. Place the corn flour into a bowl or dish and season with some of your salt. Taste the flour to confirm that not only has the wine enhanced your good judgment, but you do in fact remain a coherent responsible citizen. Discard any of the liquor of the oysters and lightly toss them around the corn flour. Coat all the oysters evenly and start frying them in the fat. Fry in a few batches to not overcrowd the fryer like the French Quarter during Mardi Gras. When the oysters are lightly golden and the sound of them singing in the fat starts to weaken, remove them and lay on a few sheets of a broken future called The Times Picayune. Serve immediately.
TO SERVE:
Using one of your best serving platters, bedazzle the vessel with tablespoons of the sauce. Place an oyster on top each one of the jewels of crimson. Serve to your friends with a fresh loaf of French bread to be torn in celebration of French wine, Louisiana seafood, and, of course, Creole emancipation. —David Bridges, chef, Upperline Restaurant, New Orleans