Recipes
Duck Foie Gras in Classic Apicius Style in Sweet-and Sour Sauce with Black Radish Confit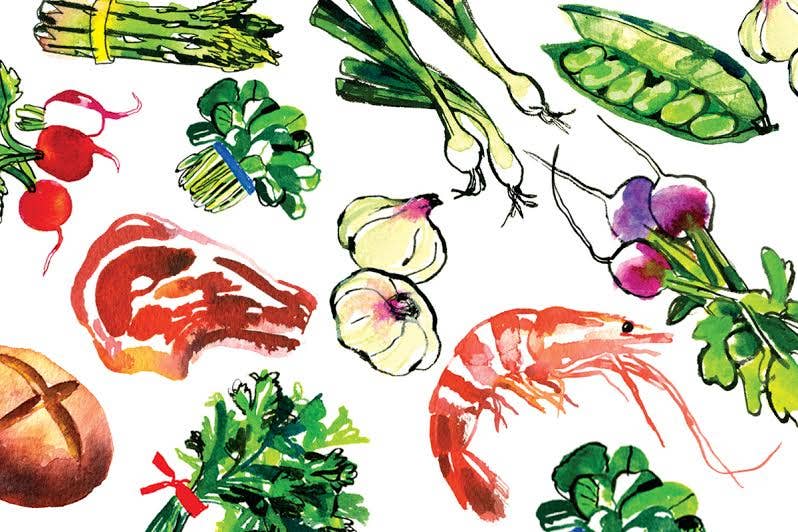 At Apicius, chef Vigato spoons a sweet-and-sour flavored brunoise of vegetables over seared foie gras.
Ingredients
1 small carrot, peeled, trimmed, and finely diced
1 small zucchini, finely diced
1⁄2 small celery root, trimmed, peeled, and finely diced
2 Tbsp. white wine vinegar
1 cup granulated sugar
1 Tbsp. white peppercorns, crushed
3 1⁄2 Tbsp. aged sherry vinegar
3 1⁄2 Tbsp. red wine vinegar
2 Tbsp. butter
5 Tbsp. confectioners' sugar
Juice of 1 lemon
2 small black radishes, very thinly sliced
4 (1"-thick) slices raw duck foie gras
Salt and freshly ground black pepper
Instructions
Step 1
Place carrots, zucchini, and celery root in the basket of a steamer over boiling water over high heat, cover, and steam until vegetables are just cooked, 3–5 minutes. Transfer to a medium bowl and set aside.
Step 2
Heat white wine vinegar and granulated sugar in a medium heavy skillet over medium heat until sugar turns golden, about 10 minutes. Stir in white peppercorns and sherry and red wine vinegars. Remove from heat, set aside to steep for 10 minutes, then strain through a fine sieve. Add half the sauce to steamed vegetables and toss to mix well.
Step 3
Melt butter in a medium skillet over medium heat. Whisk in sugar and cook for 1 minute. Whisk in 2 tbsp. water and 1 tsp. lemon juice. Reduce heat to low. Put a few radish slices in syrup and cook until edges furl, about 1 minute per side. Transfer one at a time to a plate. Add more lemon juice with each batch.
Step 4
Score flat sides of foie gras slices in a crosshatch pattern. Generously season with salt and pepper, then sear in a large nonstick skillet over high heat until browned on both sides and medium-rare in the middle, about 2 minutes each side.
Step 5
To serve, arrange radishes between four plates. Put foie gras next to them and spoon warm vegetables next to foie gras. Drizzle reserved sauce around plate and serve garnished with mâche leaves, if you like.