Fried Country Ham with Redeye Gravy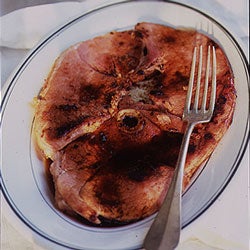 Redeye gravy, a simple but essential component of the full-on Southern ham breakfast, gets its name not from one's ocular condition in the morning, but from the oily "red eye" that forms in the pan as you stir black coffee into the drippings.
Yield: serves 1
Ingredients
1 1⁄4" -thick slice of country ham
2 cups boiling water
Instructions
Fry ham in a large skillet (preferably cast-iron) over medium heat, turning once, until browned on both sides, about 10 minutes. Transfer ham to a warm plate.
Add coffee to skillet and stir with a wooden spoon, scraping up any brown bits on bottom of pan. Pour gravy over ham. Serve with fried eggs, grits, and biscuits, if you like.