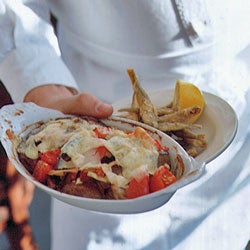 A standard menu item in the ouzo bars of Athens, these tiny, deep-fried fish—about 3″ long and eaten whole, heads and all—cook up as crisp as french fries.
Fried Whitebait
Americans have their french fries; Greeks have their fried whitebait—a favorite at the ouzo bars of Athens.
Ingredients
1 lb. whitebait
1 cup all-purpose flour
1 tsp. salt
Freshly ground black pepper
4 cups vegetable oil
Lemon wedges
Instructions
Wash and drain fish (since they're so small, it is not necessary to clean or bone them). On a large plate, combine flour with salt and several grinds of pepper. Dredge fish through the flour, shaking off any excess.
In a large heavy saucepan, heat oil over high heat until very hot but not smoking. (Test the oil by dropping in a fish; it should sizzle vigorously and, after sinking to the bottom, quickly rise to the top.) Gently place half the fish in the oil and fry until crisp and golden, about 3 minutes. Remove with a slotted spoon and drain on paper towels. Repeat with remaining fish.
Mound hot fried fish on a plate and sprinkle with coarse salt, if desired. Serve immediately, with lemon wedges.