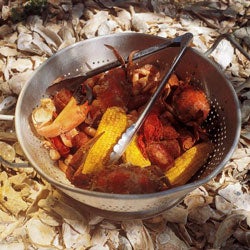 This stew was named for an old fishing town on the island of St. Helena, which is near Hilton Head, South Carolina, about 80 miles south of Charleston.
Frogmore Stew
Also known as Lowcountry boil, this is a great stew to prepare before crab season ends.
Ingredients
Salt
1 stalk celery per person, chopped and tied in cheesecloth
Seafood seasoning, such as Rex brand, which comes in small bags
1⁄4 lb. smoked sausage per person, cut in 2" pieces
2 ears corn per person
1 cleaned crab per person
1⁄2 lb. shrimp per person
Instructions
Bring a large amount of water to boil. (There should be roughly twice the volume of water as the volume of ingredients.) Add 1⁄4 cup salt per gallon of water, then add celery and seafood seasoning.
Add sausage to pot and boil for 7 minutes. Then add corn and crabs and continue to boil for another 7 minutes. Add shrimp and cook for 4 minutes, taking care not to overcook.
Drain in a colander and serve in large bowl or tub—or bow to Lowcountry tradition and serve the stew spilled out on a newspaper-lined table.