Zuppa dell'Ortolano (Greengrocer's Soup with Onion, Peppers, Rapini, and Potatoes)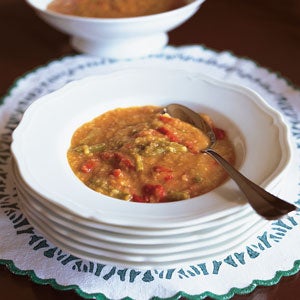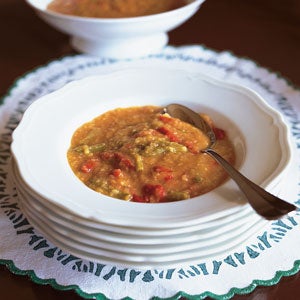 Marcella Hazan says: "An Italian vegetable soup is an excellent illustration of the principle of insaporire, the extraction and building up of flavor. Note how the rapini is sauteed at length with onion that has already been cooked to a golden color. Only then is the red pepper added, after the rapini has been given an opportunity to release and concentrate its flavor. Note too that the red pepper is peeled, so that there is no skin to mask its sweetness; moreover, it is skinned raw, not charred first. Unlike charred bell peppers, the flesh is dry and compact and takes the sauteing more deeply. Although Idaho potatoes are not a variety found in Italy, they are an excellent choice for this soup."
Zuppa dell'Ortolano (Greengrocer's Soup with Onion, Peppers, Rapini, and Potatoes)
This delicious soup, from Marcella Hazan, showcases each of the vegetable's unique flavor.
Ingredients
1½-2 lb. potatoes
1 bunch of rapini, about 1 lb.
Fine sea salt
1 large meaty red bell pepper or 2 smaller ones
1 tbsp. vegetable oil
3 tbsp. butter
⅔ cups chopped onion
Black pepper ground fresh from the mill
2-4 cups meat broth, or a beef bouillon cube dissolved in water, or canned beef broth diluted with 3 parts water
Instructions
If you are baking the potatoes, turn on the oven to 450°. Wash the potatoes in cold running water, pierce them here and there, and put them into the preheated oven. They are done when the tines of a fork enter them easily, about 50 minutes to 1 hour, depending on their size. As soon as they are cool enough to handle, scoop out the flesh, mash it through a potato ricer, and set it aside until you are ready to add it to the soup. If you are boiling the potatoes, bring a pot of water to a boil. Wash the potatoes in cold running water, drop them into the pot, and cook at a steady, moderate boil. They are done when they can be easily pierced with a fork, about 30 minutes or more, depending on the size and youth of the potatoes. Drain and, as soon as you are able to handle them, pull off the peels and mash the flesh through a potato ricer. Set aside until you are ready to add them to the soup.
Cut off the tops of the rapini and put them away for another use. Peel off the tough dark green rind that surrounds the stems. Wash the rapini in cold water. Bring a pan of salted water to a boil, add the stems, and cook them until tender. Drain and cut into pieces about 2″ long.
Cut the red pepper lengthwise along its creases, remove the stem, seeds, and pithy core, then skin with a swivel-blade vegetable peeler. Then cut it into narrow strips about 2″ long.
Put the oil, butter, and chopped onion into a saucepan, turn on the heat to medium-high, and cook, stirring occasionally, until the onion becomes colored a pale gold. Put in the rapini, turn once or twice to coat well, and cook for about 10 minutes. Add the pepper strips and cook for 8-10 minutes, stirring from time to time.
Add the potatoes to the pan. Stir well, adding salt and several grindings of black pepper. Pour enough meat broth into the pan to ahieve the consistency you desire. I like it as loose as thin cream. Cook at a steady, slow simmer for 30-40 minutes. Taste and correct for salt.