Recipes
Guam-Style Chicken with Red Rice (Tininon Mannok Yan Hineska' Agaga)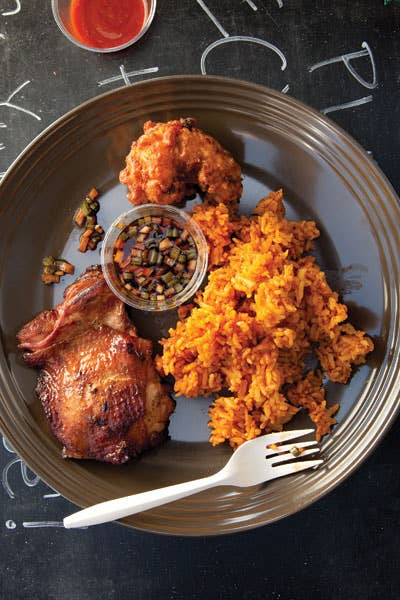 Marinated with the traditional Guam-style sauce finadene, a blend of cane vinegar, soy sauce, and aromatics, this succulent grilled chicken is served with annatto-tinged red rice at the food cart PDX 671 in Portland, Oregon. This recipe appeared with the story Food of the People.
Ingredients
3 cups soy sauce
1 1⁄2 cups cane vinegar
1 tsp. freshly ground black pepper
1 small yellow onion, thinly sliced, plus 1/3 cup finely chopped
2 1⁄2 lb. bone-in, skin-on chicken thighs
1 cup fresh lemon juice
1 cup thinly sliced scallions
2 1⁄2 tsp. crushed red chile flakes
2 1⁄2 cups jasmine rice
2 tbsp. ground annatto seeds (available at The Great American Spice Company)
Instructions
Step 1
To make the marinade, combine 2 cups soy sauce, vinegar, pepper, sliced onion, and 1 cup water in a large bowl; add chicken and cover bowl with plastic wrap. Refrigerate for at least 8 hours or overnight to marinate.
Step 2
Meanwhile, make the dipping sauce: Stir together remaining soy sauce and chopped onion with lemon juice, scallions, chile flakes, and 1⁄2 cup water; set aside.
Step 3
To make the red rice, combine rice, annatto, and 5 cups water in a 4-qt. saucepan over medium-high heat; reduce heat to medium-low and cook, covered, until rice is tender, about 10 to 12 minutes. Remove from the heat and keep rice warm.
Step 4
Build a medium-hot fire in a charcoal grill or heat a gas grill to medium-high. (Alternatively, heat a cast-iron grill pan over medium-high heat.) Cook chicken, turning, until browned, about 8 minutes. Serve with rice and dipping sauce, on the side.