Recipes
Halibut Cheeks with Baby Leeks, Peas, and Fines-Herbes Gnocchi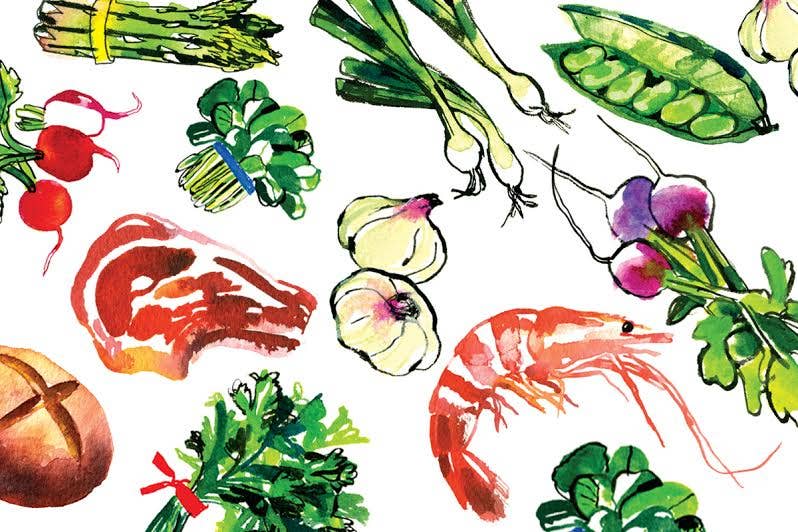 Maria Sinskey uses fresh halibut cheeks, difficult to find in some parts of the United States, for this delicate spring dish. Since frozen cheeks can be tough when cooked, Sinskey advises using halibut filets as an alternative.
Ingredients
6 (4–6-oz.) halibut cheeks or 1/2"-thick skinless halibut filets
Salt and freshly ground black pepper
6 butter
18 baby leeks (or 3 medium leeks halved lengthwise), white and pale green parts only, trimmed, sliced on the bias into 1/2"-thick pieces, washed, and drained
1 lb. fresh peas, shelled, or 3/4 cup frozen peas
1 1⁄2 cups Chicken Stock or Fish Stock
1 recipe Fines-Herbes Gnocchi, cooked
Instructions
Step 1
Season fish to taste with salt and pepper and set aside. Heat a large heavy skillet over medium-high heat, add 2 tbsp. of the butter, and cook until foaming subsides and butter begins to brown. Add half the fish and cook, turning once, until golden brown on both sides, about 2 minutes per side. Transfer fish to a large warm plate, loosely cover with foil, and set aside. Pour off fat from skillet and repeat process with another 2 tbsp. butter and the remaining fish. Pour off fat from skillet and return skillet to medium-high heat.
Step 2
Heat remaining butter in skillet until just beginning to brown. Add leeks and sauté, stirring often, until slightly softened, about 2 minutes. Add peas and cook for 1 minute. Add stock and boil until vegetables are tender and stock thickens slightly, 3-5 minutes. Season to taste with salt and pepper. Add gnocchi and cook, gently stirring and basting pasta with the pan juices, until hot, 2-3 minutes.
Step 3
Divide gnocchi and vegetables between 6 warm wide bowls. Add fish to each bowl, then spoon pan juices on top.