Hazelnut Raspberry Linzer Squares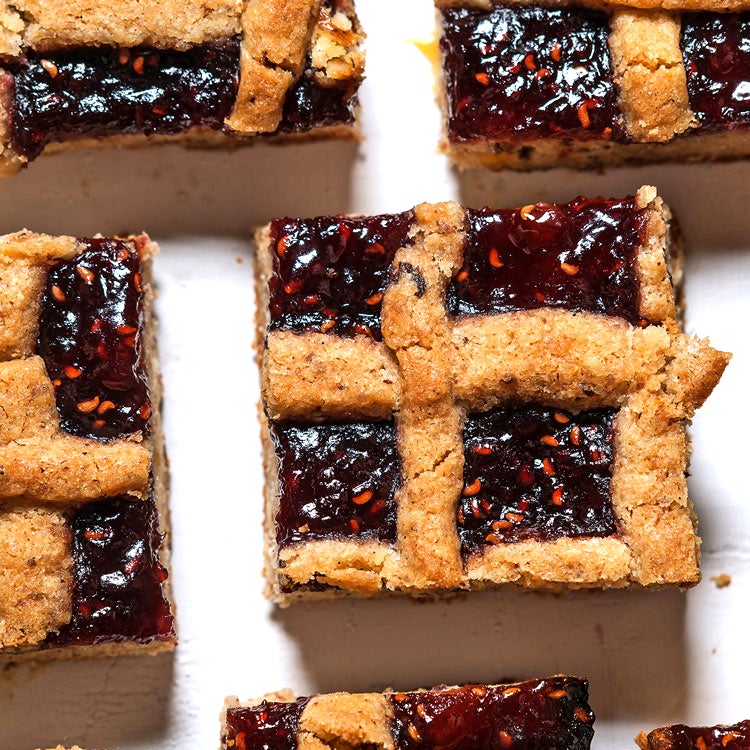 This recipe, from Seven Spoons blogger Tara O'Brady, appeared in our 2012 Cookie Advent Calendar."These exceptionally pretty, nut-flecked bars are an annual favourite for me and my family. The combination of a nutty dough and sweet jam creates a peanut-butter-and-jelly appeal, but the addition of fragrant vanilla and bright orange zest dresses up the classic pairing for the holiday table."
Hazelnut Raspberry Linzer Squares
This recipe, from [Seven Spoons](http://www.sevenspoons.net/) blogger Tara O'Brady, appeared in our [2012 Cookie Advent Calendar](https://www.saveur.com/cookie-advent-calendar-2012/)."These exceptionally pretty bars are an annual favourite for me and my family. The combination of a nutty dough and sweet jam creates a peanut-butter-and-jelly appeal, but the addition of fragrant vanilla and bright orange zest dresses up the classic pairing for the holiday table."
Ingredients
12 tbsp. unsalted butter, plus more for greasing pan
3⁄4 cup flour
1⁄2 cup whole-wheat flour
1⁄2 cup hazelnuts, roasted, cooled, and finely ground in a food processor
1⁄2 tsp. kosher salt
1⁄2 cup sugar
1⁄4 cup turbinado sugar
1 egg
1⁄2 vanilla bean, seeds scraped and reserved
2⁄3 cup raspberry preserves
1 tsp. orange zest
Instructions
Line a 9″ square baking pan with parchment paper and grease; set aside. Whisk together both flours, hazelnuts, and salt in a bowl; set aside. In another bowl, beat butter and both sugars on medium speed of a hand mixer until pale and fluffy, about 5 minutes. Beat in egg and vanilla seeds. Add dry ingredients, and beat until just combined. Remove and reserve ½ cup dough; transfer remaining dough to prepared pan and press into bottom. Using an offset spatula, spread remaining dough into a 9″ square on a sheet of parchment paper; refrigerate both doughs for 1 hour.
Heat oven to 350°. Stir together preserves and zest in a bowl, and then spread over dough in baking pan. Using a knife or pizza cutter, cut dough into 10 strips; lay 5 strips crosswise and then lay the remaining 5 strips lengthwise to form a grid over preserves. Bake until golden brown and preserves are bubbling, about 45–50 minutes. Let cool completely; unmold and cut into 36 squares.