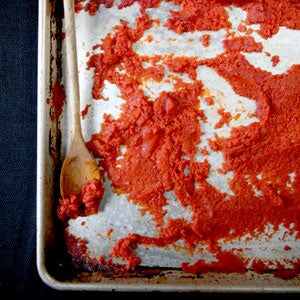 Tomato paste lends depth and flavor to many dishes.
Yield: makes About 1 Cup
Ingredients
5 lb. plum tomatoes
1⁄4 cup extra-virgin olive oil plus 2 tbsp.
Kosher salt, to taste
Instructions
Heat oven to 300° . Roughly chop tomatoes. Heat 1⁄4 cup of the oil in a 12″ skillet over high heat. Add tomatoes and season lightly with salt; bring to a boil. Cook, stirring, until very soft, about 8 minutes.
Pass the tomatoes through the finest plate of a food mill, pushing as much of the pulp through the sieve as possible, leaving the seeds behind.
Rub a rimmed 13″ x 18″ baking sheet with remaining 2 tbsp. of oil; spread tomato purée evenly over sheet. Bake, using a spatula to turn the purée over on itself occasionally, until most of the water evaporates and the surface darkens, about 3 hours. Reduce heat to 250°; cook until thick and brick colored, 20–25 minutes.
Store sealed in an airtight container in the refrigerator for up to one month, or freeze, wrapped well in plastic wrap, for up to 6 months.