North Indian Kidney Bean Masala Stew (Rajma)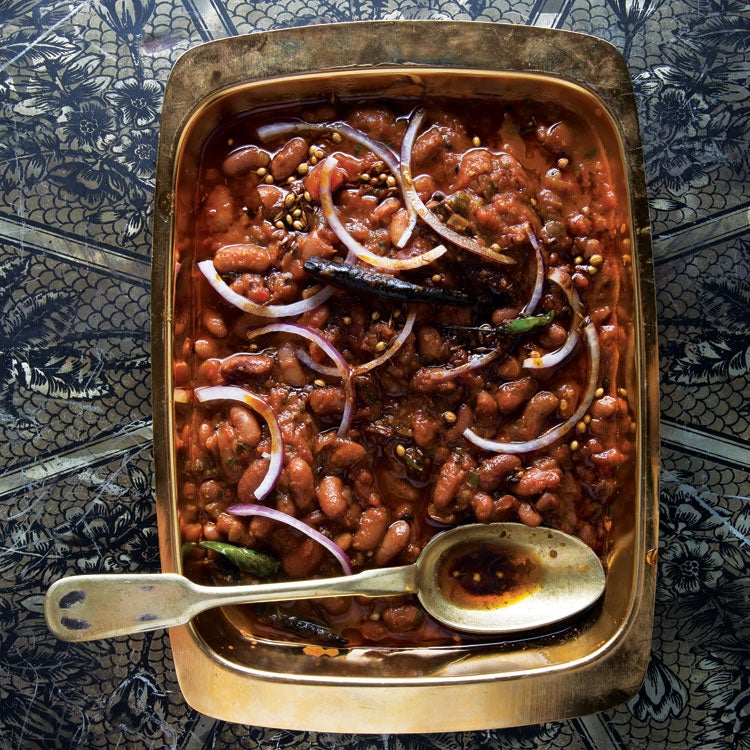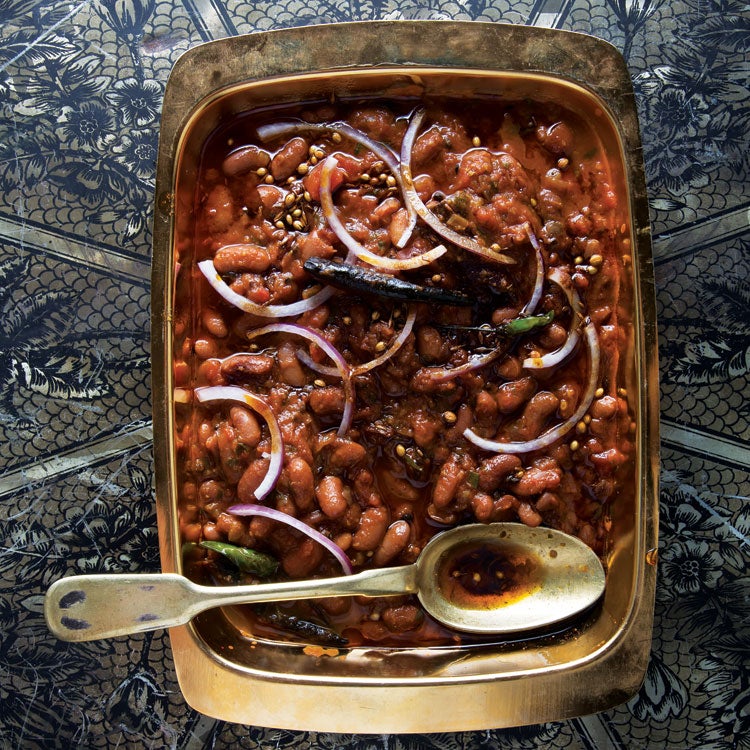 The beans in this classic Punjabi dish can be cooked without a pressure cooker, but allow for an extra hour of cooking time. Featured in: Pressure Cooker
North Indian Kidney Bean Masala Stew (Rajma)
This classic Punjabi bean dish is perfect over rice or with a side of naan—it's also a wonderful vegan alternative to traditional American baked beans.
Ingredients
1 cup dried kidney beans, soaked overnight
6 cloves garlic, finely chopped
2 red onions (1 minced, 1 thinly sliced)
Kosher salt and freshly ground black pepper, to taste
1 (1/2-inch) piece ginger, finely chopped
3 serrano chiles, stemmed
1⁄2 tsp. ground turmeric
1⁄2 tsp. hot paprika
2 tbsp. canola oil
2 dried chiles de arbol
2 tsp. coriander seeds
1⁄2 tsp. cumin seeds
1 stick cinnamon
1 (15-oz.) can whole peeled tomatoes in juice, crushed by hand
1⁄4 cup cilantro, finely chopped
1 tsp. garam masala
1 tbsp. fresh lemon juice
Cooked basmati rice, for serving
Instructions
Combine beans, half the garlic, half the minced onion, and salt in a 2-qt. pressure cooker with 2 1⁄2 cups water. Cover, and cook on high heat until whistle sounds, 15 to 20 minutes. Reduce heat to medium, and cook 10 minutes more. Remove from heat, and allow steam to dissipate completely before opening, about 12 minutes. Drain beans, reserving 1⁄2 cup cooking water; set aside.
Puree remaining garlic, ginger, seranno chiles, turmeric, and paprika with 2 tbsp. water in food processor; set paste aside. Heat oil in a 10″ skillet over medium-high heat. Add chile de arbol, coriander, cumin, and cinnamon; cook until fragrant, about 1 minute. Add remaining minced onion; cook until browned, about 1 minute. Add paste; cook for 2 minutes. Stir in tomatoes; cook until liquid has evaporated, about 15 minutes.
Add tomato mixture, cilantro, garam masala, lemon juice, salt, pepper, and 1⁄2 cup water to beans in pressure cooker. Bring to a boil over high heat; cook, uncovered and stirring occasionally, for 2 minutes more. Serve over rice, and garnish with sliced red onion.