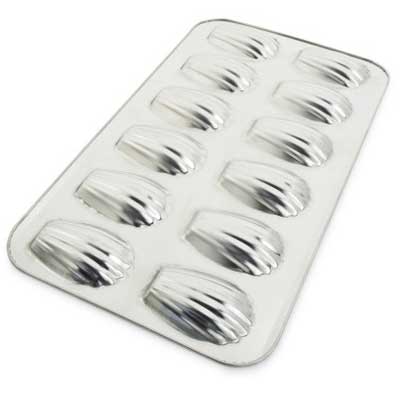 In this recipe, which we based on one in Larousse Gastronomique, baking soda is added as a leavening agent in order to accentuate the madeleine's telltale hump. (Some recipes state that letting the batter rest before baking creates a higher hump; we found the difference to be negligible.)
Madeleines
The marriage between cookie and cake never tasted so good as this version based on the one in Larousse Gastronomique.
Ingredients
6 tbsp. plus 3 tsp. butter
1 3⁄4 cups cake flour
1 cup sugar
1⁄2 tsp. baking soda
Finely grated zest of 2 lemons
1 pinch fine kosher salt
4 eggs, beaten
Instructions
Heat oven to 375°. Grease two 12-mold madeleine pans containing 3-inch–long molds with 2 tsp. butter. Melt remaining butter in a pot over medium-low heat; let cool for 10 minutes. Whisk together flour, sugar, baking soda, lemon zest, and a pinch of salt in a bowl; fold in eggs until smooth. Add melted, cooled butter; fold until just mixed. Divide batter between molds, filling each about three-fourths of the way. Bake, rotating once, until golden brown, 15–20 minutes. Remove cookies from molds; let cool slightly.