Hortopita (Swiss Chard and Feta Pie)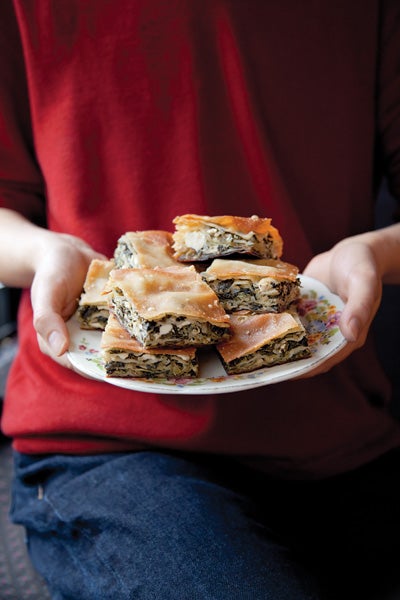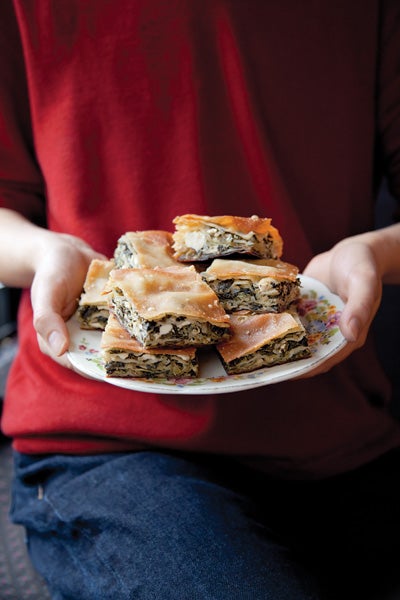 Aggeliki Bakali, a home cook in the central Greek village of Pertouli, makes this savory pie of greens, herbs, and feta from a family recipe. Feel free to replace her homemade phyllo with the store-bought variety (see Phyllo Finds) and make the pie in a 9″ x 13″ rectangular baking dish. See our step-by-step instructions for making hortopita »
Hortopita (Swiss Chard and Feta Pie)
Aggeliki Bakali, a home cook in the central Greek village of Pertouli, makes this savory pie of greens, herbs, and feta from a family recipe.
Ingredients
4 cups bread flour
Kosher salt, to taste
1 tsp. sugar
1 cup plus 3 tbsp. extra-virgin olive oil
2⁄3 cup club soda
1⁄3 cup vodka
2 tbsp. white wine vinegar
16 scallions, minced
6 cloves garlic, minced
1 3⁄4 lb. Swiss chard, chopped
1 cup each minced fresh dill, mint, and parsley
Freshly ground black pepper
12 oz. feta, crumbled
Instructions
In a bowl, whisk together flour, 1 1⁄2 tsp. salt, and sugar. Make a well in center; pour in 2 tbsp. oil, soda, vodka, and vinegar. Stir to make a dough. Knead dough on a floured surface until smooth. Divide into 6 balls. Cover dough balls with a damp tea towel; let rest 30 minutes. Start to roll out a dough ball using a thin rod or dowel.
Continue rolling dough, occasionally stretching it across the dowel, and turning it 90˚ after each roll, to create a 14″ phyllo circle about 1⁄16" thick.
Grease a 12″ cake pan with 2 tbsp. oil. Transfer phyllo circle to pan; let edges hang over; brush with 2 tbsp. oil. Roll second dough sheet to match first; lay it on top of first sheet. Brush with 2 tbsp. oil. (Alternatively, cut store-bought phyllo into two 11″ x 15″ sheets; layer them in a 9″ x 13″ baking dish, brushing each with oil.)
Heat 1⁄2 cup oil in a pot over medium-high heat. Add scallions and garlic; cook until soft, 3–4 minutes. Add chard and herbs; cook, stirring, until tender, 12–15 minutes. Season with salt and pepper; cool. Stir in feta. Spread a third of the greens in pan.
Heat oven to 400˚. Roll out two more dough balls into 12″ circles about 1⁄16" thick (or cut 4 store-bought phyllo sheets into 9″ x 13″ rectangles). Transfer to baking sheets; bake until golden, 4–6 minutes. Cool. Place 1 baked phyllo sheet (or 2 store-bought sheets) on top of greens; cover with half the remaining greens. Top with remaining sheet(s) and greens.
Roll 2 remaining balls into 12″ circles about 1⁄16" thick (or cut 2 store-bought phyllo sheets into 9″ x 13″ rectangles). Cover greens with 1 phyllo sheet; brush with 2 tbsp. oil and score pie to vent. Top with remaining phyllo; fold phyllo hanging over edges onto top of pie; brush with 1 tbsp. oil. Bake 20 minutes. Reduce heat to 350˚; bake until golden brown, 18–20 minutes. Let cool slightly.