Marinated Shrimp with Feta and Mint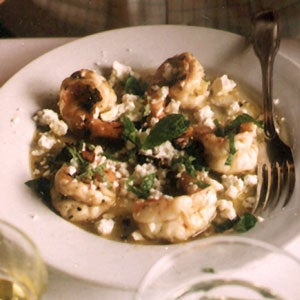 We've enjoyed Pane e Vino, where this refreshing salad is served, for years—and were pleased when radicchio grower Lucio Gomiero told us it was one of his favorites, too.
Marinated Shrimp with Feta and Mint
This refreshing salad is a favorite at Pane e Vino where it has been served for years.
Ingredients
12 large fresh shrimp, peeled, butterflied, and deveined
4 tbsp. extra-virgin olive oil
2 cloves garlic, peeled and finely chopped
1⁄4 cup white wine
Salt and freshly ground white pepper
4 sprigs fresh mint
2 tbsp. fresh lime juice
2 tbsp. fresh lemon juice
3⁄4 cup crumbled feta
Instructions
Preheat grill or stove-top grill. Meanwhile, put shrimp, 2 tbsp. of the oil, garlic, wine, and salt and pepper to taste in a medium bowl and toss to mix well. Set shrimp aside and allow to marinate for 5–6 minutes. Strip leaves from 2 of the mint sprigs, coarsely chop, and set aside.
Transfer shrimp to grill, discarding marinade, and grill over medium-high heat, turning once, until shrimp are just cooked through, 1–2 minutes per side.
Transfer shrimp to a medium bowl. Add remaining 2 tbsp. oil, reserved chopped mint, lime juice, and lemon juice and set aside until shrimp cool to room temperature, about 15 minutes.
Divide the shrimp evenly between 2 salad plates. Pour dressing over shrimp, scatter feta over shrimp, and garnish each plate with leaves from remaining 2 sprigs mint.