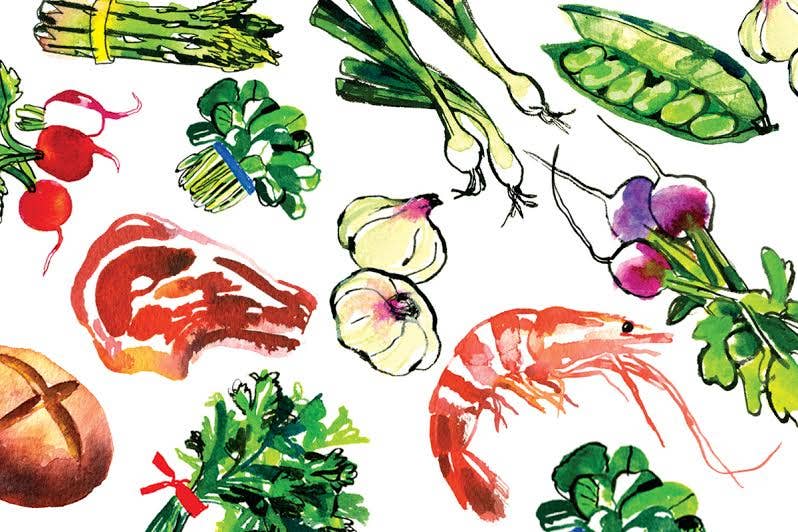 _ (Albondigas en Chipotle)_
Chipotles are smoked jalapeños, sold dried, en adobo (in chile sauce), or preserved in vinegar.
2 oz. day-old white bread, torn into small pieces
1/2 cup milk
1/2 lb. ground veal
1/2 lb. ground pork
1/2 lb. ground lamb
1 small white onion, peeled and chopped
2 raw eggs
2 hard-cooked eggs, peeled and chopped
1 lb. tomatillos, husked and rinsed
4 chipotles in vinegar
1/4 cup cilantro leaves
1/4 cup white vinegar
Salt and freshly ground black pepper
2 tbsp. vegetable oil
2 cups chicken stock
1. Put bread into a large bowl, add milk, and let bread soak until soft. Add veal, pork, lamb, onions, and raw eggs to bowl and gently mix with your hands until well combined. Shape meat mixture into 36 meatballs about 1 1/2" in diameter, stuffing about 1 tsp. of the hardcooked eggs into center of each meatball.
2. Bring a medium pot of water to a boil over high heat. Add tomatillos and cook until bright green, about 1 minute. Drain and transfer tomatillos to a blender. Add chipotles, cilantro, and white vinegar and puree until smooth. Season to taste with salt and pepper.
3. Heat oil in a large deep skillet over medium- high heat. Add tomatillo puree and fry, stirring often, until thickened, 6—7 minutes. Carefully add stock and bring to a boil. Reduce heat to medium-low, add meatballs, and simmer until meatballs are cooked through and sauce has thickened, 20—25 minutes. Serve with warm flour tortillas, if you like.