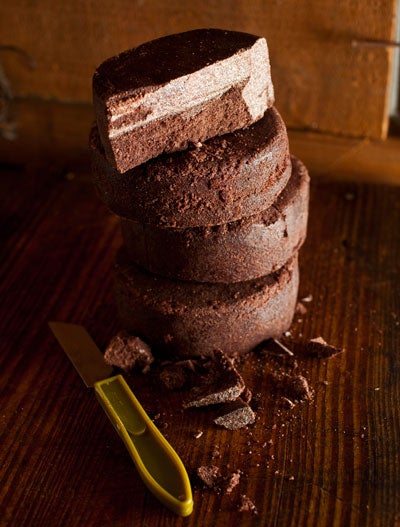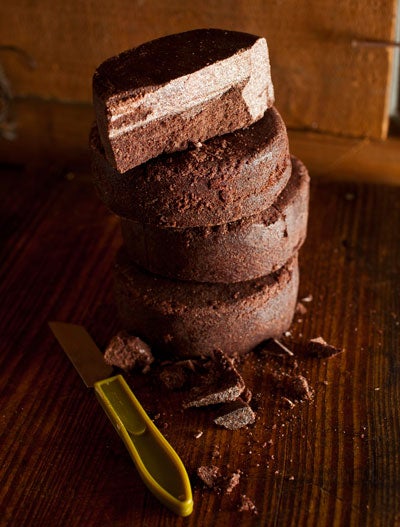 This Mexican chocolate tablet recipe comes from Hugo and Ruben Ortega of Hugo's restaurant in Houston, TX. The hardened chocolate tablets can be used to make hot chocolate for drinking with churros or in savory dishes like mole poblano. See Reuben make this recipe, start to finish, in our video How to Make Mexican Chocolate »
What You Will Need
Mexican Chocolate
This Mexican chocolate tablet recipe comes from Hugo and Ruben Ortega of Hugo's restaurant in Houston, TX. The hardened chocolate tablets can be used to make hot chocolate for drinking with churros or in savory dishes like mole poblano.
Ingredients
1 1⁄2 lb. cacao beans (about 6 cups)
2 lb. granulated sugar
2 tbsp. ground cinnamon, preferably Mexican
2 tbsp. pure vanilla extract, preferably Mexican
Instructions
Heat a 12″ cast iron skillet over high heat. Lower heat to medium, and working in 2 batches, add beans, and cook, stirring, until toasted and beginning to pop, about for 10 minutes. Remove cacao beans from heat ,and transfer to a bowl; set aside to cool.
Using a manual grinder, pass the warm, toasted cacao beans through the grinder onto a clean work surface until they become a smooth paste, about 3 times. Transfer the cacao paste to a bowl. Add sugar, cinnamon, and vanilla, and mix well by hand. The mixture will have a crumbly texture. Pass this chocolate mixture one last time through the grinder.
Place the ring mold on a clean, sturdy surface. Scoop about 1 cup of chocolate mixture into the ring and pack it in using your fingers. To ensure a tightly-packed tablet, use the bottom of a heavy skillet and pound it against the top of the ring. Continue adding the mixture and pounding until you have a smooth, even surface.
Using a sharp knife, make an incision at the diameter across the surface of the tablet, about ¾" deep; remove mold and let tablet cool to harden. Wrap tablets individually in plastic wrap or parchment paper. Store in an airtight container at room temperature for 3 to 4 months or in the refrigerator for 6 months to 1 year.