Recipes
Meyer Lemon and Garlic Dressing (Currandooley Dressing)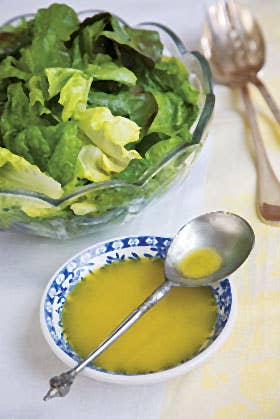 Tangy and refreshing, this dressing can be used to dress any combination of mixed greens. We've also made it with juice from regular lemons, and the results were just as delicious, if a bit more tart.
Ingredients
3 cloves garlic
1 tbsp. coarse salt
1⁄2 cup mild extra-virgin olive oil
Black pepper
1⁄2 cup meyer lemon juice
Instructions
Step 1
Using a fork, crush garlic and coarse salt together in a small bowl until mixture is soft and moist, interspersed with large chunks of garlic. Gradually drizzle in olive oil while mixing vigorously with a fork. Add a generous sprinkling of pepper and continue to mix.
Step 2
Whisk in lemon juice to make a smooth dressing. Strain dressing through a fine sieve, discard solids, and adjust the seasonings. Store in the refrigerator for up to 7 days.