Recipes
Zacatecas-Style Green Mole With Chicken (Pollo en Mole Verde Zacatecano)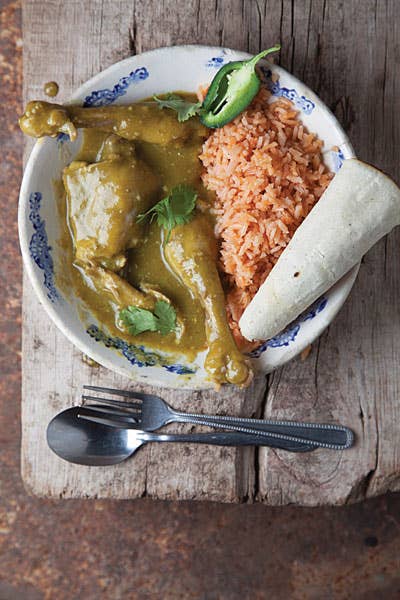 Lighter and simpler than the nut-enriched moles of Puebla and Oaxaca, this Zacatecan version is made with fresh tomatillos, cilantro, jalapeños, and garlic.
Ingredients
For the Chicken
1 (3–4-lb.) whole chicken, cut into 8 pieces
1⁄2 cup chopped cilantro stems
2 tbsp. kosher salt
1 tsp. whole black peppercorns
2 cloves garlic
1 large yellow onion, chopped
1 bay leaf
For the Mole Verde
8 oz. tomatillos, peeled and chopped
2 jalapeños, stemmed and chopped
1⁄2 cup cilantro leaves
2 tsp. kosher salt, plus more to taste
2 cloves garlic, chopped
2 (8-inch) flour tortillas, toasted, plus more for serving
3 tbsp. canola oil
Mexican rice, for serving
Instructions
Step 1
Cook the chicken: Place chicken, cilantro, salt, peppercorns, garlic, onion, bay leaf, and 12 cups water in a 6-qt. saucepan and bring to a boil; reduce heat to medium-low and cook, covered and stirring occasionally, until chicken is tender, about 30 minutes.
Step 2
Remove chicken from saucepan and strain liquid through a fine strainer; reserve 4 cups, and save remaining liquid for another use. Set chicken and liquid aside.
Step 3
Heat tomatillos and jalapeños in a 4-qt. saucepan over medium heat and cook, stirring occasionally, until darkened and thick, about 10 minutes. Transfer to a blender with cilantro, salt, garlic, tortillas, and 1 cup reserved cooking liquid; puree.
Step 4
Heat oil in a 6-qt. saucepan over medium-high heat; add tomatillo sauce and fry, stirring constantly, until it thickens into a paste, about 5 minutes. Whisk in remaining cooking liquid and bring to a boil; reduce heat to medium-low and cook, stirring, until reduced and thickened, about 30 minutes.
Step 5
Add chicken pieces and cook until heated through, about 10 minutes. Serve with Mexican rice and tortillas.