Multigrain Buttermilk Waffles with Poppy Seeds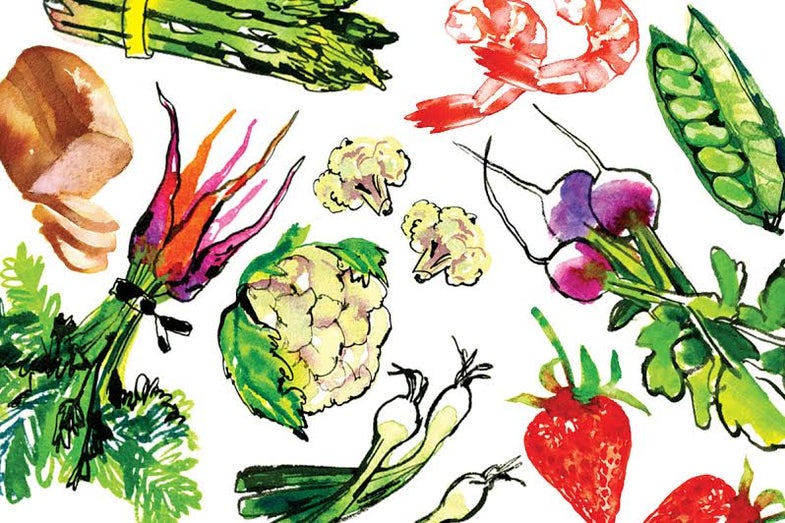 "You might think these whole-grain waffles [from grain farmer Jennifer Greene] will taste like hippie food," says Fields of Plenty (Chronicle Books, 2005) author Michael Ableman, "but they are far from it; they're surprisingly light and delicious."
Multigrain Buttermilk Waffles with Poppy Seeds
Even though these waffles are made with multigrain flour they are surprisingly light and crispy.
Yield:
makes About 6 Waffles
Ingredients
1 1⁄2 Tbsp. poppy seeds
1 3⁄4 cups buttermilk
1 1⁄2 cups barley flour
1⁄4 cup oat flour
1⁄4 cup corn flour
1 Tbsp. sugar
1 1⁄2 tsp. baking powder
1⁄2 tsp. kosher salt
1⁄4 tsp. baking soda
2 eggs, separated
6 Tbsp. butter, melted and slightly cooled
Yogurt and fresh fruit such as berries, or sliced peaches or nectarines, for serving
Instructions
Combine the poppy seeds and buttermilk in a small bowl and let soak for 1 to 2 hours in the refrigerator, or overnight if possible.
Preheat a waffle iron. Sift together the flours, sugar, baking powder, salt, and baking soda into a bowl. Whisk the egg yolks lightly in a large bowl and stir in the melted butter and poppy seed mixture. Add the dry ingredients and stir just until combined. In a medium bowl, beat the egg whites until stiff but not dry and quickly fold them into the batter.
When the waffle iron is hot, pour some batter over the grid, easing it toward but not all the way to the edges with a wooden spoon. Close the iron and cook until the exterior of the waffle is crisp and golden, about 5 minutes. Transfer the waffle to a platter and keep warm in a low oven while you cook the remaining waffles. Serve hot with yogurt and fresh fruit.