Onions Stuffed with Lamb and Apricots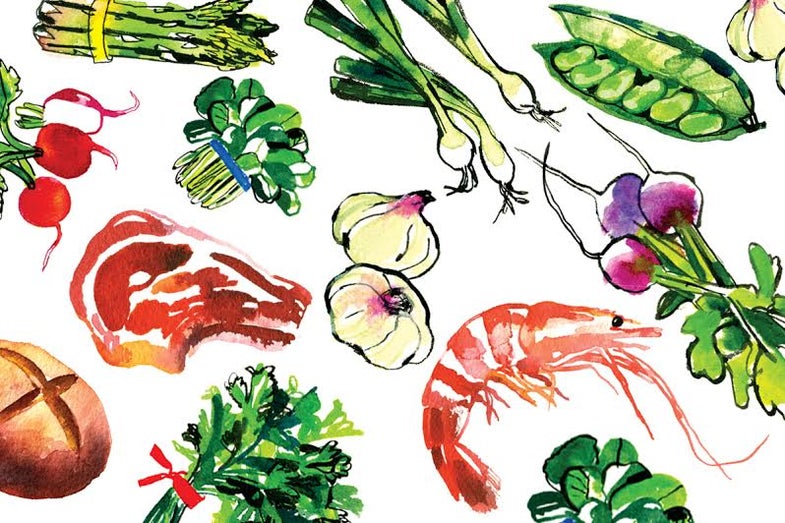 The pairing of lamb and apricots is classic in Middle Eastern cuisine.
Yield: makes 6
Ingredients
6 medium yellow onions
5 Tbsp. butter
1 1⁄2 cups chicken stock
1 tsp. minced lemon zest
16 dried apricot halves, chopped
1⁄2 lb. ground lamb
1 tsp. ground cinnamon
Salt and freshly ground black pepper
3 Tbsp. finely chopped fresh parsley
3 Tbsp. finely chopped fresh mint
2 Tbsp. coarse fresh bread crumbs
Instructions
Without peeling onions, cut about 1" off the top of each, and enough off the bottom so that onions stand upright. Reserve tops. Remove all but the outer 2 layers of each by scooping out centers with a paring knife or pushing them up through the top. Set shells and tops aside; finely chop centers.
Melt 3 tbsp. butter in a skillet over medium-low heat. Add chopped onions and cook until soft, about 15 minutes. Meanwhile, bring stock to a simmer in a saucepan over medium heat. Add lemon zest and apricots and cook until soft, about 10 minutes.
Preheat oven to 400°. Add lamb and cinnamon to onions; increase heat to medium; season with salt and pepper. Cook, stirring, until lamb is crumbly and just cooked through, about 5 minutes. Remove from heat. Stir in stock-apricot mixture and 2 tbsp. each parsley and mint. Cool slightly.
Spoon filling into onion shells; place in an ovenproof dish. Heap bread crumbs on top (lay onion tops alongside); dot with remaining butter. Pour 1⁄4 cup water into dish. Bake, basting twice, for 20 minutes, then cover with aluminum foil and bake until onions are tender, about 20 minutes. Garnish with remaining mint and parsley. Serve with onion tops and couscous, if desired.