Recipes
Ka'ak bil Ma'amoul (Date-Stuffed Ring Cookies)
Serves

makes About 27 Cookies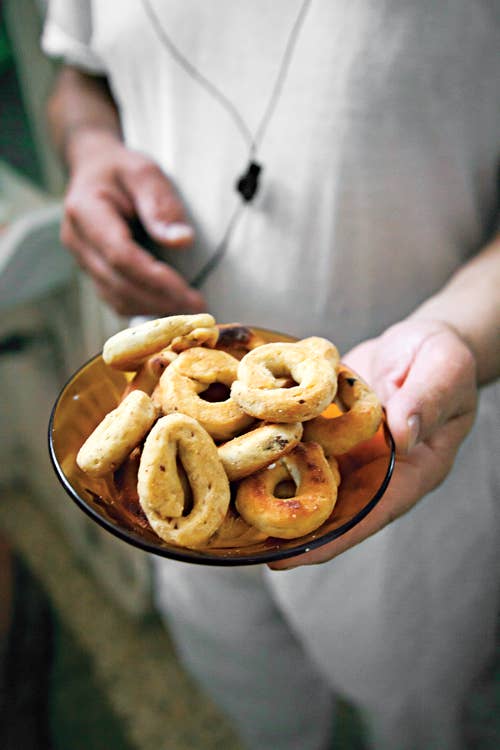 These holiday cookies are flavored with orange blossom water and stuffed with a sweet date filling. This recipe first appeared in our December 2013 issue along with Nancy Harmon Jenkins' article Heart of Palestine.
Ingredients
1 1⁄4 cups flour
1 1⁄4 cups whole wheat flour
1 cup olive oil, plus more for greasing
3⁄4 cup fine semolina
1⁄2 cup water, heated to 115°
1 1⁄2 tbsp. orange blossom water
1 tbsp. ground anise
2 tsp. plus 1 tbsp. sugar
1 1⁄2 tsp. active dry yeast
1 1⁄2 tsp. nigella seeds
1 tsp. kosher salt
1⁄2 tsp. ground mahlab
1⁄2 tsp. toasted sesame seeds
8 oz. pitted medjool dates
1 1⁄2 tsp. unsalted butter
1⁄2 tsp. ground cinnamon
1⁄4 tsp. ground cardamom
1⁄8 tsp. freshly grated nutmeg
1⁄8 tsp. ground cloves
Instructions
Step 1
Mix flours, oil, semolina, waters, anise, 2 tsp. sugar, yeast, nigella, salt, mahlab, and sesame seeds in a stand mixer fitted with a hook until dough forms. Increase speed to medium-high; knead until dough is smooth, 2–3 minutes. Cover with plastic wrap; set aside in a warm place until doubled in size, 2 hours.
Step 2
Place dates in a bowl and cover with boiling water; let sit until soft, 5–10 minutes. Drain, discarding water, and transfer to a food processor. Add remaining sugar, plus butter, cinnamon, cardamom, nutmeg, and cloves; purée into a paste.
Step 3
Heat oven to 400°. Divide dough into twenty-seven 1-oz. balls. Divide paste into equal number of balls. Working with 1 ball dough at a time, roll into a 5" × 1½" rectangle, about ⅛" thick. Using wet hands, roll 1 ball paste into a 4½" log; place in center of dough lengthwise. Fold dough up and over the paste; brush edges with water and seal closed. Using hands, roll log until smooth; pinch ends together to form a ring. Arrange rings on greased baking sheets; bake until golden and crisp, about 20 minutes.