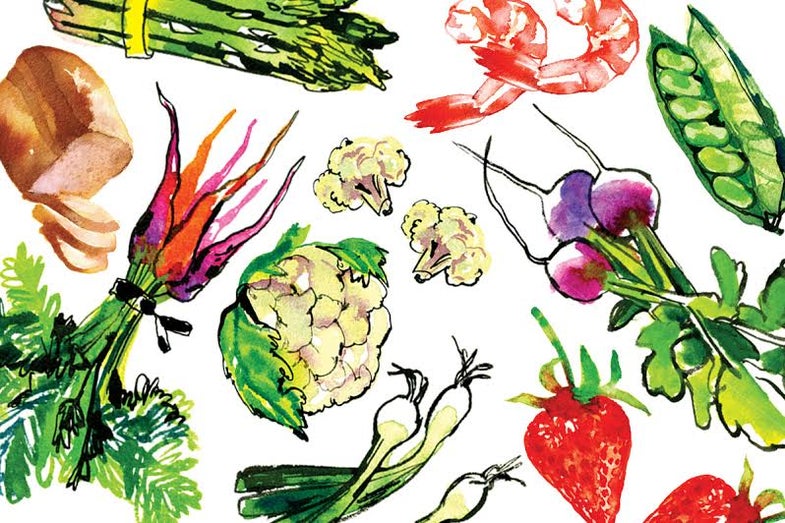 A simple, elegant dessert.
Yield: serves 2
Ingredients
1 Tbsp. unsalted butter, softened
1⁄2 cup sugar
2 egg yolks
3 egg whites
2⁄3 cup passion fruit nectar
1⁄2 tsp. cornstarch
Instructions
Position a rack in the lower third of oven, then preheat oven to 425°. Butter a 4" soufflé dish, then dust with about 1 tbsp. sugar, shaking out any excess. Refrigerate soufflé dish.
Whisk together egg yolks with 3 tbsp. sugar in a large bowl until mixture is pale yellow, then set aside.
Whisk egg whites until foamy in a nonreactive mixing bowl, sprinkle in 1 tbsp. sugar, and continue whisking until whites hold a soft peak. Add 2 tbsp. sugar and beat until whites are glossy and just stiff. (Egg whites whipped in an unlined copper bowl will achieve 1⁄3 more volume.)
Whisk 2 tbsp. passion fruit nectar into egg yolk mixture, then fold in 1⁄4 of the egg whites. Carefully fold in remaining egg whites until just incorporated (do not overfold). Pour into chilled soufflé dish and smooth top with a spatula. Run the tip of your thumb around inner edge of the dish to make a rim. Bake soufflé until browned on top, about 12 minutes.
Meanwhile, mix together remaining passion fruit nectar and remaining 1 tbsp. sugar in a small saucepan over medium heat until sugar dissolves, about 3 minutes. Dissolve cornstarch in 1 tsp. water, then whisk into sauce until slightly thickened, about 1 minute.
Divide soufflé between 2 plates and spoon passion fruit sauce around each serving.