Pasta with Clams and Basil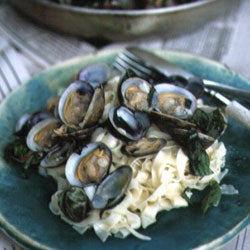 The Pacific littleneck clam used in this recipe is harvested from Alaska to Southern California and is known for its tremendous taste and accessibility.
Yield: serves 4
Ingredients
1⁄3 cup olive oil
8 cloves garlic, peeled and minced
1⁄2 cup dry white wine
4 dozen littleneck clams, scrubbed
1 lb. fettuccine
3 tbsp. fresh flat-leaf parsley
3 tbsp. fresh basil leaves
Sea salt and freshly ground pepper to taste
Instructions
Heat oil in a large, heavy skillet over medium heat. Add garlic and cook until fragrant but not brown, about 1 minute.
Add wine and clams, and cook, tightly covered, until clams open, about 5–8 minutes. Occasionally shake skillet and remove clams as they open, setting them aside in a bowl (discard any that are chipped or fail to open).
Meanwhile, cook fettuccine in a large pot of boiling, salted water until tender. Drain pasta and add to clam sauce in skillet. Add parsley and basil. Season to taste with salt and freshly ground black pepper and toss. Transfer to a large serving bowl and arrange clams on top.