Sun-Dried Tomato Pesto (Pesto Rosso)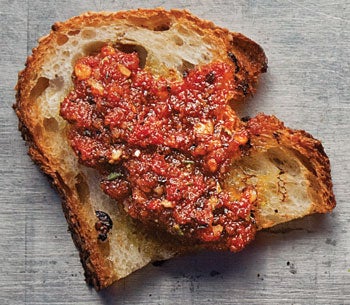 This pesto, thickened with almonds, gets its intense red hue from the sun dried tomatoes and Aleppo pepper, which brings sweetness and heat to its flavor. This pesto is at its best served with pasta. This recipe first appeared in SAVEUR Issue #140 along with Laura Schenone's story Glorious Pesto
Sun-Dried Tomato Pesto (Pesto Rosso)
Best served with pasta, this intensely-hued, savory–sweet pesto is thickened with almonds and gets its spice from Aleppo pepper.
Yield:
makes about 1 1/2 cups
Ingredients
1 cup extra-virgin olive oil
1⁄2 cup toasted blanched almonds, chopped
2 tbsp. rosemary leaves, minced
2 tsp. balsamic vinegar
2 tsp. sugar
1⁄2 tsp. Aleppo pepper or paprika
20 pitted oil-cured black olives
10 sun-dried tomatoes in oil, chopped
4 cloves garlic, chopped
Kosher salt and freshly ground black pepper, to taste
Instructions
Process oil, almonds, rosemary, vinegar, sugar, Aleppo, olives, tomatoes, and garlic in a food processor until finely chopped; season with salt and pepper.