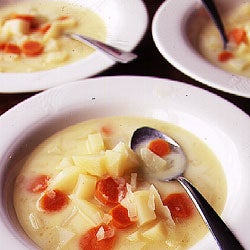 This is a flavorful and creamy soup with just the right amount of cheese.
Yield: serves 6-8
Ingredients
4 russet potatoes, peeled and diced
1 carrot, peeled and sliced
1 yellow onion, peeled and chopped
6 cups Chicken Stock
8 tbsp. butter
¼ cups flour
2 cups hot milk
2 cups grated sharp cheddar cheese
Salt and freshly ground black pepper
Instructions
Combine potatoes, carrots, onions, and chicken stock in a large heavy pot. Bring to a boil over medium heat. Reduce heat to low, and simmer until vegetables are soft, about 45 minutes.
Melt butter in a large, heavy saucepan over medium heat. Add flour, and cook, stirring with a wooden spoon, for 2 minutes. Stir in hot milk, ½ cup at a time, and cook until smooth and slightly thickened, about 3 minutes. Add cheese. Stir milk mixture into soup. Season to taste with salt and pepper.