Potée (French Meat and Vegetable Stew)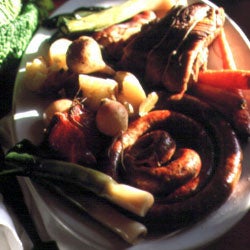 The region of Savoie lies in the frosty heart of the French Alps, and it is here that French mountain cooking thrives, producing a wealth of rich dishes like this one. When cooking this delicious stew at home you'll need a 24-quart stockpot.
Yield: serves 10
Ingredients
1 (3-lb.) pork shoulder, rolled and tied
2 smoked ham hocks
3 lb. smoked kielbasa
6 medium onions, peeled, each studded with 1 clove
4 cloves garlic, peeled
Coarse salt
5 black peppercorns
3 bay leaves
6 leeks, washed and trimmed
10 whole carrots, peeled
10 small turnips, scrubbed
4 smoked pork sausages
10 small potatoes, scrubbed
1 head green cabbage, cored and quartered
Freshly ground black pepper
Instructions
Place pork, ham hocks, kielbasa, 1 of the onions, garlic, 1 tsp. salt, peppercorns, and bay leaves in a large, heavy pot with water to cover. Bring to a boil over medium-high heat. Reduce heat and gently simmer for 2 hours, skimming fat and foam.
Add remaining 5 onions, leeks, carrots, turnips, sausages, and potatoes, and bring to a simmer. Cook over medium-low heat until vegetables are almost tender, about 30 minutes. Add cabbage; cook 10 minutes more.
Remove meat and vegetables and keep warm in a low oven. Reduce stock over high heat for 10 minutes. Adjust seasoning.
Slice meat and sausages and place in the center of a deep platter; surround with vegetables. Ladle some broth over the dish and sprinkle with salt and pepper. Serve with remaining broth and toasted bread.