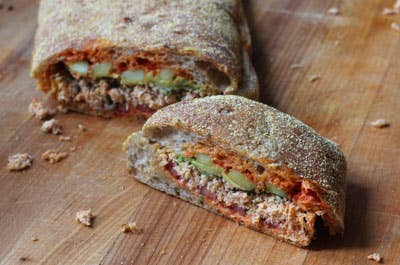 Recipes
Pressed Crab Salad Sandwich with Red Pepper Vinaigrette
This sandwich, designed to feed a crowd, is perfect for a lazy summer picnic — its all-in-one contents and easily portable format makes it ideal for a day at the beach. The tangy red pepper vinaigrette is key here; over the 6 to 24 hours that the sandwich rests, wrapped in plastic and under 10 pounds of weight, it soaks in to the bread and melds together beautifully with the bright vegetables and delicate crab salad. This was the winning recipe in SAVEUR's May 2011 Home Cook Challenge. It was developed by home cook Jen Beckman of the blog loveandonions.com. SERVES 8
FOR THE TOMATOES:
2 medium beefsteak or heirloom tomatoes
¼ teaspoon kosher salt
FOR THE RED PEPPER VINAIGRETTE:
1 cup jarred red bell peppers, drained
3 tablespoons red wine vinegar
3 cloves garlic, smashed and peeled
½ teaspoon kosher salt
¼ cup olive oil
FOR THE CRAB SALAD:
3 tablespoons capers, drained and chopped
4 tablespoons mayonnaise
finely grated zest from one lemon
¼ teaspoon kosher salt
1 pound backfin crab meat, picked over
2 tablespoons red pepper vinaigrette (above)
1 16oz loaf ciabatta bread
1 cucumber, peeled, halved, seeded, and cut into ¼ inch slices
1 small ripe avocado, halved, pitted, and thinly sliced
¼ teaspoon kosher salt
juice of half a lemon
1. Prepare the tomatoes: Core and slice tomatoes, then arrange on several layers of paper towels. Sprinkle with ¼ teaspoon kosher salt, and cover with a double layer of paper towels. Set aside while you prepare the rest of the sandwich components.
2. Make the vinaigrette: Combine bell peppers, red wine vinegar, garlic cloves and ½ teaspoon kosher salt in a blender and blend to a smooth puree. With the motor running, drizzle in the olive oil and blend until incorporated.
3. Make the crab salad: In a medium bowl, whisk together the chopped capers, mayonnaise, lemon zes, salt, and 2 tablespoons of the vinaigrette. Gently fold in the crab meat.
4. Build the sandwich: Halve the ciabatta laterally, and lie halves flat, cut-side up. Use your fingers to remove some of the interior crumb of the bread, being careful not to create a hole in the crust. Brush both sides liberally with remaining red pepper vinaigrette, reserving any unused vinaigrette for another use. Cover the ciabatta top side with a single layer of cucumber slices, and layer avocado over the cucumber. Sprinkle ¼ teaspoon salt and drizzle with the lemon juice. On the bottom slice of bread, arrange the drained tomato slices in a single layer. Spread the crab salad evenly over tomatoes, then close the sandwich to encase the fillings.
5. Wrap the sandwich in two layers of plastic wrap, then place wrapped sandwich between two baking sheets. Weigh the top sheet with 5-10 pounds of weight (canned goods or iron skillets work well) and refrigerate for at least six hours (ideally, up to 24). When sandwich is ready, unwrap the plastic wrap, slice into equal portions, and serve chilled.