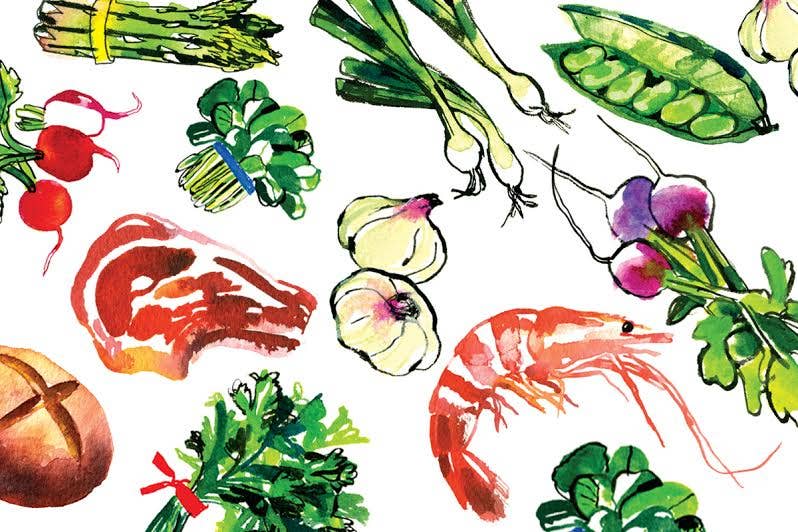 Richard Olney preferred to cook this dish in seasoned earthenware, but also recommended enameled ironware (like Le Creuset). This recipe is from his _French Menu Cookbook _(Simon and Schuster, 1970).
3 1/2 lbs. boneless beef shoulder,
shank, chuck, or a mixture
4 oz. fresh pork fatback with rind
6 cloves garlic, crushed and peeled
1/2 bunch parsley, leaves finely chopped
1/4 cup cognac
3 tbsp. olive oil
1 bottle good dry white wine
8 oz. fresh pork rib belly with rind
5 oz. pork rind, cubed
6 medium tomatoes, peeled, cored, seeded, and coarsely chopped
2 medium yellow onions, peeled and finely chopped
2 medium carrots, peeled, trimmed, and thinly sliced
1/2 lb. mushrooms, cleaned, trimmed, and finely chopped
3/4 cup pitted black olives
1 tsp. mixed dried thyme, oregano, and summer savory
Salt
2 bouquets garnis (each containing 1 small bunch parsley,
1 bay leaf, and 1 strip dried or fresh orange peel tied with kitchen twine)
1 cup veal stock, or leftover juice from roasted or braised beef or veal,
or pot-au-feu bouillon—otherwise 1 cup water
1. Cut beef into fairly large pieces of more-or-less regular shape, respecting, as nearly as possible, the natural muscular structure. Remove rind from fatback, cut into cubes, and set aside. Cut fat into strips approximately
2. Preheat oven to 350°. Arrange half the pork rinds in the bottom of a 4-quart, enameled ironware pot with a tight-fitting lid. Arrange half the beef over the rinds. Continue layering with half the tomatoes, onions, carrots, mushrooms, olives, pork belly, and mixed herbs, then season to taste with salt. Add 1 of the bouquets garnis, then repeat layering with remaining ingredients. Pour marinade and stock over top to barely cover (adding extra liquid if necessary); cover and place in oven. Once daube begins to boil, in about 1 hour, reduce oven temperature to 250° and continue to cook until meat is very tender, about 5 hours more. Skim off fat, discard bouquets garnis, and serve with noodles, if you like.