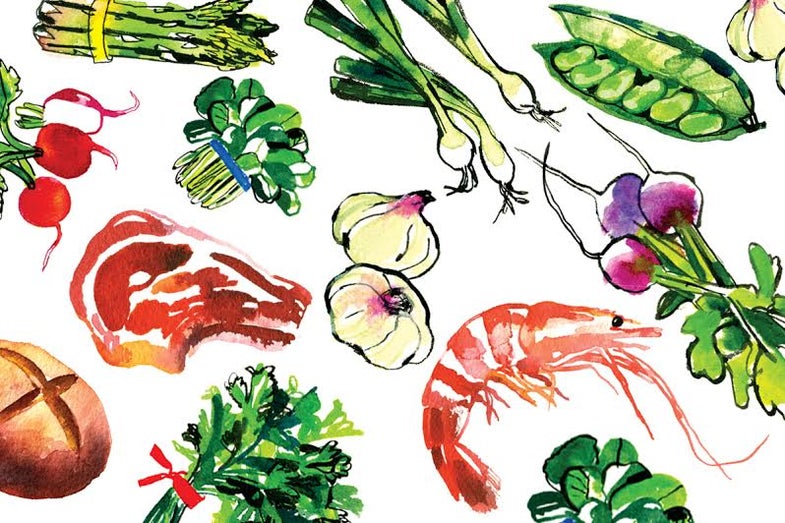 At Lumiere, chef Michael Leviton makes this tartare with top-quality sirloin that has been dry-aged for 28 days.
Red Curry Steak Tartare
The vivid Southeast Asian flavors in this appetizer are a good match for umami-rich aged sirloin.
For the Kaffir Lime-Leaf Oil and Red Curry Vinaigrette
1⁄2 cup fresh kaffir lime leaves (about 16)
6 Tbsp. plus 1/4 cup canola oil
2 Tbsp. red curry paste
2 Tbsp. chopped fresh lemongrass
2 Tbsp. seasoned rice vinegar
1⁄2 tsp. patis (Philippine fish sauce)
For the Steak Tartare
1 lb. aged sirloin, very finely diced
1 (1/2″) piece ginger, peeled and minced
1 shallot, peeled and minced
1 Tbsp. finely chopped Thai basil or spearmint leaves
1 Tbsp. finely chopped peppermint leaves
Instructions
For the kaffir lime-leaf oil: Put kaffir lime leaves and 6 tbsp. oil into a blender and purée until oil is flecked with the leaves, 1-2 minutes. Transfer to a bowl and cover. Set oil aside at room temperature overnight. The following day, strain through a cheesecloth-lined sieve into a small bowl, discard solids, and set aside.
For the red curry vinaigrette: Put curry paste, lemongrass, vinegar, and fish sauce into a blender and purée until smooth, about 1 minute. With motor still running, gradually add remaining oil in a slow, steady stream through hole in blender lid. Transfer to a small bowl and set aside. Vinaigrette may appear separated or broken.
For the steak tartare: Put meat, ginger, shallots, basil or spearmint, peppermint, and 6 tbsp. of vinaigrette into a large bowl and gently mix together until just combined.
Gently pack one-fourth of the steak tartare into a deep, 2 1⁄2" ring mold set in the middle of a plate, then unmold by removing ring. Repeat process on 3 more plates with remaining tartare. Drizzle some of the lime oil and remaining vinaigrette around each one.