Recipes
Vivaneau Rouge Rôti avec Fenouil et Tomates (Red Snapper Baked with Fennel and Tomatoes)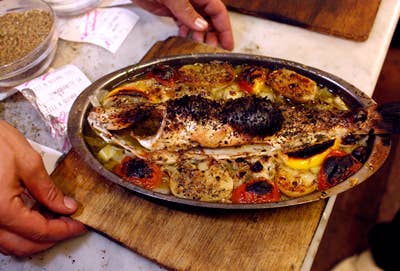 Garlic, coriander, and thyme season this full-flavored baked fish, inspired by a similar dish at the restaurant Le Brulot in Antibes. Serve with crusty bread for soaking up the flavorful juices. This recipe first appeared in our June/July 2012 issue along with Sylvie Bigar's story The Road to Paradise.
Ingredients
3 plum tomatoes, cored and halved lengthwise
1 medium bulb fennel, trimmed, cut into 12 wedges
1 medium yellow onion, cut crosswise into 12″ slices
4 cloves garlic
Kosher salt, to taste
1⁄2 cup fresh lemon juice
1⁄3 cup olive oil
1 tsp. lightly crushed coriander seeds
1 tsp. lightly crushed black peppercorns
1 tsp. dried thyme
2 bay leaves
2 (1-lb.) whole red snappers, cleaned and scaled
Freshly ground black pepper, to taste
1 tbsp. finely chopped parsley
Baguette slices, for serving
Instructions
Step 1
Heat oven to 400°. Place tomatoes, fennel, and onion evenly in a large oval baking dish; set aside. Mince garlic on a cutting board and sprinkle heavily with salt; using a knife, scrape garlic and salt together to form a smooth paste. Transfer to a bowl, and whisk in juice, oil, coriander, peppercorns, thyme, and bay leaves; pour half of this dressing over the vegetables. Place in oven and bake until vegetables are tender, about 35 minutes.
Step 2
Heat broiler to high. Season inside and outside of fish with salt and ground pepper, and place over vegetables in dish; pour remaining dressing evenly over fish. Place under broiler and cook, turning fish once, until fish are cooked through, about 18 minutes. Sprinkle with parsley before serving with bread.