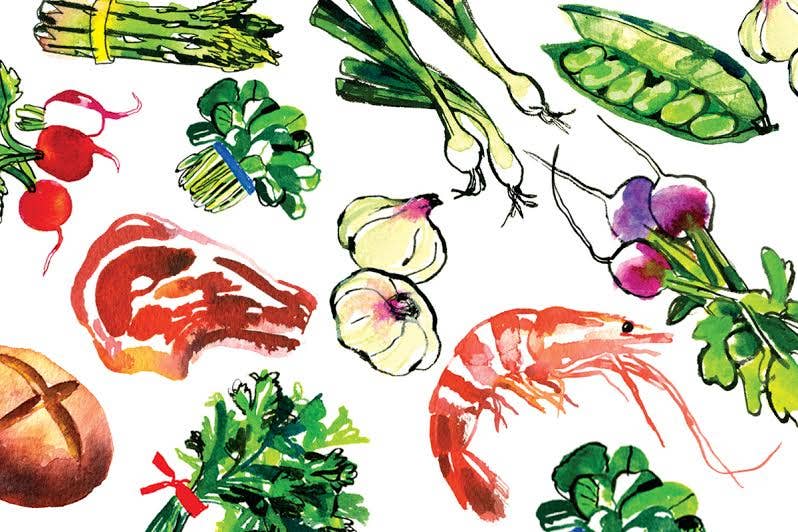 Though this popular cold dish is widely known as Russian salad, it was created by a Frenchman, a Monsieur Olivier, from Dijon, at his Moscow restaurant, L'Ermitage, in the late 1800s (he then went on to cook for Russia's last tsar, Nicholas II). It originally included grouse, crayfish, and truffles but has become simplifi ed over the years—and more diverse: today there are as many versions as there are cooks.
** **1 medium waxy potato3 carrots, trimmed
6—8 oz. cooked boneless chicken, ham, or knackwurst, diced
1 cucumber, seeded and diced
1 large deli-style dill pickle, diced
1/2 cup thawed frozen or drained canned peas
1 hard-cooked egg, peeled and diced
4-6 sprigs fresh dill, chopped
Leaves of 4—6 sprigs fresh parsley, chopped
1/2 cup mayonnaise
2 tbsp. white wine vinegar
Salt and freshly ground black pepper
1. Put potato and carrots into a medium pot, cover with cold water, and gently boil over medium heat until tender, about 30 minutes for the potato and 20 minutes for the carrots. Transfer vegetables as done to a plate and let cool completely. Discard cooking water. Peel potato and carrots and cut each into 1/4" dice. Transfer vegetables to a large bowl.
2. Add chicken, ham, or sausage, cucumbers, pickles, peas, egg, dill, parsley, mayonnaise, and vinegar to bowl and stir until well combined. Season to taste with salt and pepper. Cover and refrigerate until well chilled. Adjust seasonings. Transfer to a serving dish.