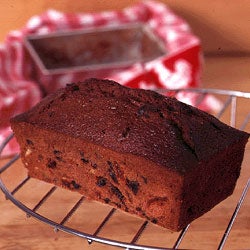 This recipe was given to us by the former creative director of SAVEUR, Michael Grossman. He remembers the much awaited arrival of his grandmother's neatly wrapped, delicious fruitcakes. The cakes were never eaten immediately, but portioned out to make them last as long as possible.
Sally G.'s Fruitcake
This fruitcake is so delicious that you will want to savor it as long as possible.
Yield:
makes 8 Small Cakes
Ingredients
4 cups sugar
1 cup raisins
1⁄2 cup cocoa powder
1 medium orange
1 medium lemon
2 1⁄4 cups dried apricots
3⁄4 cup dried pears
3⁄4 cup dried peaches
2 cups pitted prunes
2 cups walnuts
1 cup butter, melted
2 tsp. vanilla extract
6 eggs, lightly beaten
4 cups flour
1 tsp. baking soda
2 tsp. baking powder
1 tsp. salt
1⁄2 cup dark rum
Instructions
Place sugar and raisins in a medium saucepan. Add 3 cups water and bring to a boil over high heat. Stir until sugar dissolves, then remove from heat. Meanwhile, dissolve cocoa in 1 cup warm water in a large bowl. Stir in sugar mixture. Cool completely.
Zest and juice orange and lemon. Chop zest, apricots, pears, peaches, prunes, and walnuts, then add to sugar mixture. Add orange and lemon juice, butter, vanilla, and eggs, and mix thoroughly with a wooden spoon.
Preheat oven to 325°. Grease eight 2-cup (5 1⁄2″ × 2 1⁄2″) loaf pans and line bottoms with buttered parchment paper. Sift flour, baking soda, baking powder, and salt together into a large bowl, then stir into fruit mixture.
Spoon batter into pans and bake until a toothpick inserted in center of cakes comes out clean, about 1 hour and 15 minutes. Cool for 30 minutes, then turn onto a wire rack and cool completely. Brush each cake with rum. (Store wrapped in plastic wrap in refrigerator for up to 2 weeks.)