Salsa Verde (Herb Sauce with Breadcrumbs)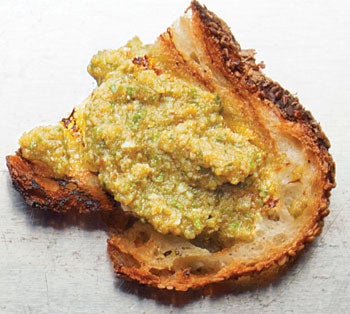 Italy's other ubiquitous green sauce is flavored with parsley and thickened with bread crumbs. Seasoned with vinegar and anchovies, it's bold enough to stand up to grilled meats. This recipe first appeared in our August/September issue along with Laura Schenone's story Glorious Pesto
Salsa Verde (Herb Sauce with Breadcrumbs)
Italy's other ubiquitous green sauce is flavored with parsley and thickened with bread crumbs. Seasoned with vinegar and anchovies, it's bold enough to stand up to grilled meats. _[See the recipe »](https://www.saveur.com/article/Recipes/Salsa-Verde-Herb-Sauce-With-Breadcrumbs/)_
Yield:
makes About 2 Cups
Ingredients
⅓ cups fresh bread crumbs
2 tbsp. red wine vinegar
1 cup packed parsley, chopped
½ cups olive oil
1 tbsp. capers, drained
1 tbsp. pine nuts
10 pitted green olives, chopped
2 anchovy filets, chopped
1 clove garlic, finely chopped
1 hard-boiled egg yolk
Kosher salt and freshly ground black pepper, to taste
Instructions
Stir together bread crumbs and vinegar in a bowl; set aside. Process parsley, oil, capers, nuts, olives, anchovies, garlic, and egg yolk in a food processor until smooth; stir into bread crumb mixture and season with salt and pepper.