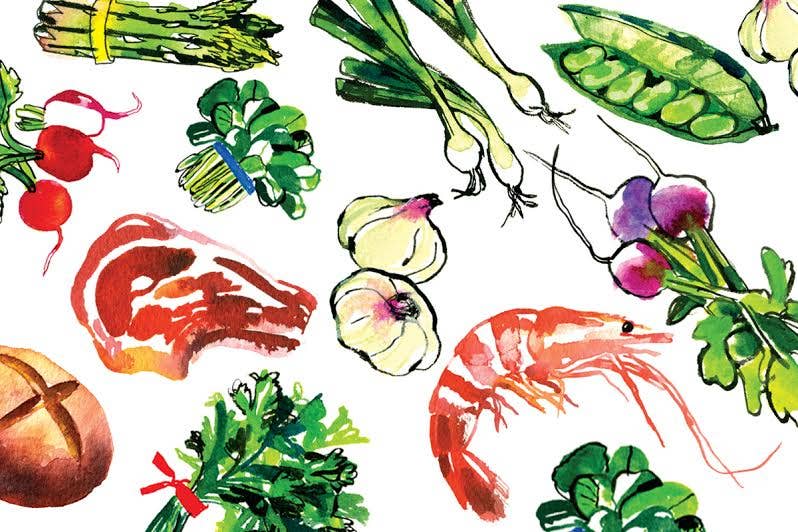 Recipes
Sauerkraut and Bacon Strudel
Sauerkraut in Austria, as elsewhere in central and eastern Europe, can be truly delicious—tender and not too sour, unlike the coarser, tougher sauerkraut often found in the U.S.
** 1/2 lb. bacon, diced
2 small yellow onions, peeled and chopped
Leaves of 3 sprigs parsley, chopped
3 small yukon gold potatoes, boiled in their jackets until tender, then peeled
11/2 lbs. European-style sauerkraut, drained
1 tsp. whole caraway seeds
1/2 tsp. ground caraway seeds
Freshly ground black pepper
6 tbsp. butter
1 recipe strudel dough
11/4 cups sour cream **
1. Put bacon and onions into a large skillet and cook over medium-high heat until bacon is browned but not crisp, about 10 minutes. Stir in parsley and transfer to a large bowl. Coarsely grate potatoes into bowl with bacon mixture. Add sauerkraut and whole and ground caraway and mix well. Season to taste with pepper.
2. Preheat oven to 400°. Melt butter in a small skillet over medium-low heat and cook until lightly browned. Pour clarifi ed butter into a small bowl, discarding milk solids.
3. Roll and stretch strudel dough out. Position dough and cloth with a longish edge parallel to edge of work surface closest to you. Brush dough with half of clarifi ed butter. Pile sauerkraut mixture evenly along edge of dough closest to you, 3" in from long edge and 1" in from shorter side edges, covering about one-third of the dough. Spread sour cream over sauerkraut mixture.
4. Roll up and bake strudel according to apple strudel recipe steps 3 and 4. Serve sauerkraut and bacon strudel warm, with additional sour cream on the side, if you like.