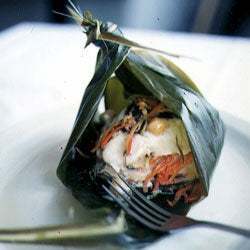 When noted Hawaiian chef/restaurateur Sam Choy shared this recipe with us, he advised us to "use the best fish your pocketbook can afford." The vegetables can vary seasonally, and banana or bamboo leaves can be substituted for ti leaves.
Seafood Laulau
Like a seafood present, this dish is beautifully wrapped in fresh Hawaiian ti leaves.
Ingredients
3 pieces 2-oz. fresh fish filets, preferably three different kinds
Coarse salt
1⁄2 cups fresh spinach
1 carrot
1 small onion
2 ti leaves
Instructions
Sprinkle fish with salt to taste, then set aside. Wash, drain, and chop spinach. Peel and julienne carrot and finely chop onion.
With a very sharp knife, carefully cut ribs from ti leaves and set aside. Steam leaves for 5 minutes or until they are soft and flexible.
Layer fish and vegetables in the center of the crossed leaves. Season to taste with a little more salt, fold the leaves into a package, and tie with a ti leaf rib. Place the laulau on a rack in a pan over boiling water, cover, and steam for 10 minutes. Serve hot.