Recipes
Seared Cod with Mushrooms and Onions
A cast-iron skillet is the perfect pan for these sturdy filets.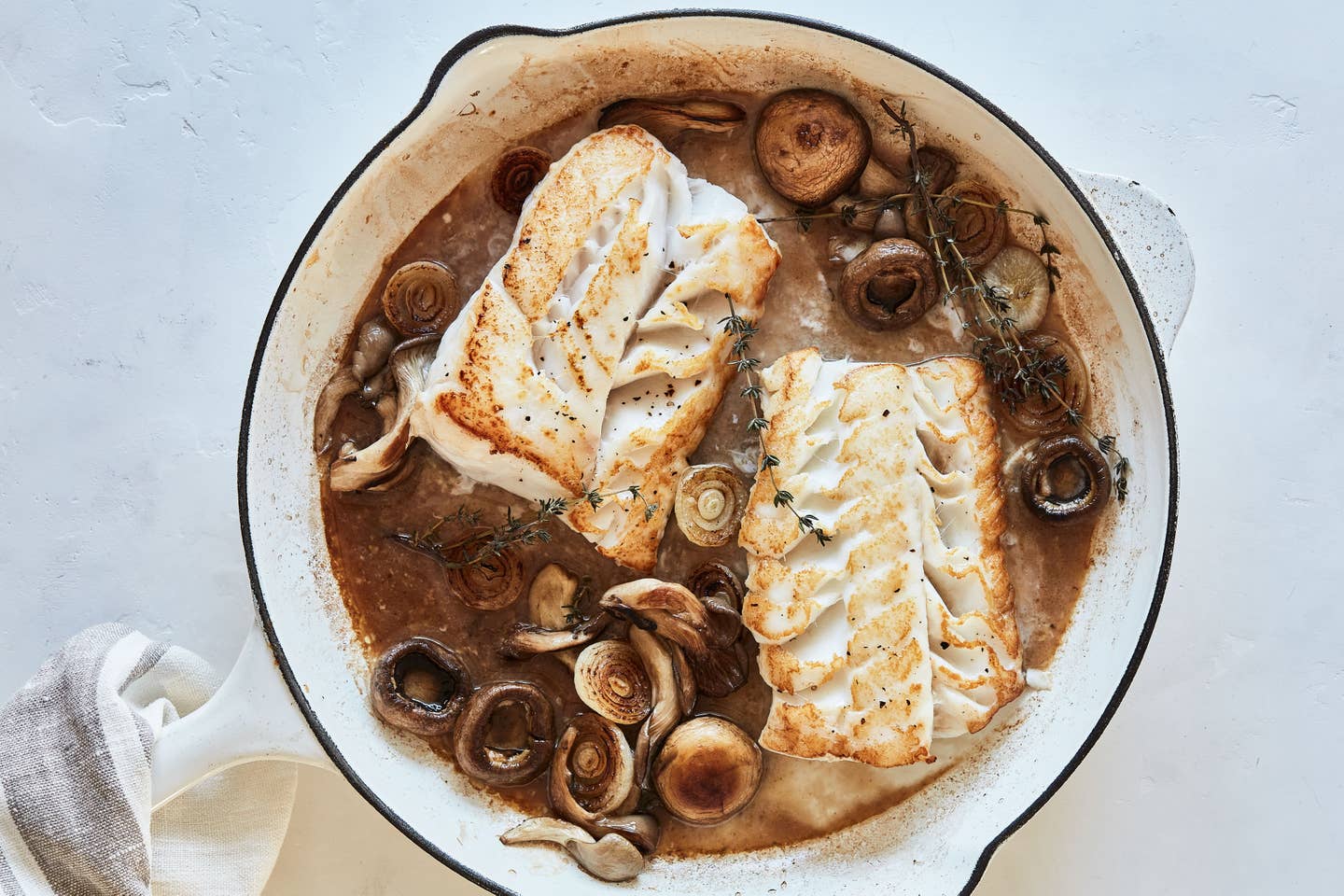 A cast-iron skillet is the perfect pan to use for searing, then oven-roasting, sturdy filets of codfish. Check out all of our favorite grilled fish dishes for summer.
Ingredients
¼ cups plus 1 Tbsp. extra-virgin olive oil, divided
5 cipollini onions, peeled and halved crossswise
5 white button mushrooms, stems removed, halved crosswise
Kosher salt and freshly ground black pepper
½ cups sherry vinegar
One 1½-lb. center-cut cod fillet, patted dry with paper towels
6 fresh thyme sprigs
Instructions
Step 1
Position a rack in the center of the oven and preheat to 400°F. To a medium skillet set over medium-high heat, add 3 tablespoons of the oil, the onions, mushrooms, and salt and black pepper to taste. Cook, stirring frequently, until the onions begin to brown, about 5 minutes, then turn the heat to medium and cook until the onions are deep golden and soft, about 7 minutes more. Add the vinegar and cook, scraping up any browned bits stuck to the bottom of the skillet, until reduced slightly, about 1 minute. Scrape into a bowl and set aside, then wipe out the skillet and return it to the stove.
Step 2
Turn the heat to high. Rub the remaining oil all over the cod and season generously with salt and black pepper. When the skillet is hot, add the cod and cook, flipping once, until deep golden on both sides, 2–4 minutes. Spoon the reserved onion mixture around the fish and scatter with the thyme. Transfer to the oven and bake until a thermometer inserted into the thickest part of the fillet reads 130°F and the fish is flaky and nearly opaque, about 5 minutes.