Recipes
Sildesalat (Danish Smoked Herring, Beet, and Potato Salad)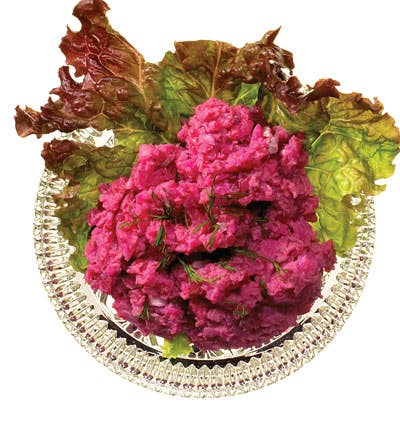 Smoked herring, boiled potatoes and beets, and mustard make a refreshing salad to serve on dark rye as part of a Danish-style smørrebrød platter with crisp gherkins. This recipe first appeared in our April 2011 special Sandwich Issue with the article Salad Days.
Ingredients
Kosher salt, to taste
1 russet potato, peeled and quartered
8 oz. smoked herring, finely chopped
6 oz. boiled beets, finely chopped
2 tbsp. Dijon mustard
1⁄2 yellow onion, finely chopped
Freshly ground black pepper, to taste
Instructions
Step 1
Bring a medium saucepan of salted water to a boil and add potato. Cook until tender, 16–18 minutes; drain and let cool. Finely chop and transfer to a large bowl, along with herring, beets, mustard, onion, salt, and pepper. Toss to combine; chill before serving.