Smithfield Ham and Crab Sauté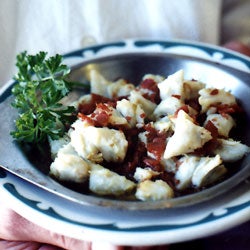 For over 30 years Haussner's was the most extraordinary restaurant in Baltimore, Maryland, due to its very large collection of 19th century paintings. They called this popular dish a saute, but it was actually cooked in the broiler. If you don't have Smithfield ham—a lean, very salty country ham—you can substitute prosciutto or westphalian ham (you may need to season to taste with salt).
Yield: serves 4
Ingredients
1 lb. jumbo lump crabmeat
6 oz. chopped, thinly sliced Smithfield ham
1⁄2 cup unsalted butter, melted
Instructions
Divide crabmeat among four individual shallow baking dishes; scatter ham over crab. Drizzle melted butter over crab and ham and place in a preheated broiler until hot and ham is a little crispy on the edges, 2-4 minutes.