Softshell Crab Sandwiches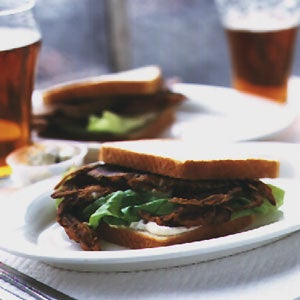 We enjoyed these simple sandwiches at Watermen's Inn in Crisfield, Maryland.
Yield: serves 1-2
Ingredients
1⁄2 cup flour
Salt and freshly ground black pepper
2 tbsp. butter
1 tbsp. vegetable oil
2 cleaned softshell crabs
4 slices white sandwich bread
Tartar Sauce
Bibb lettuce
Instructions
Season flour with salt and pepper in a shallow bowl or plate.
Heat butter and oil in a medium skillet over medium-high heat.
Dredge crabs in flour, shake off excess, then panfry until brown and crisp, about 2 minutes on each side. Drain on paper towels.
Make up 2 sandwiches, using 1 crab per sandwich, 2 slices of bread, a little tartar sauce, and a leaf or two of bibb lettuce. Serve with additional tartar sauce.