Recipes
Provençal Vegetable Soup with Garlic-Basil Paste (Soupe au Pistou)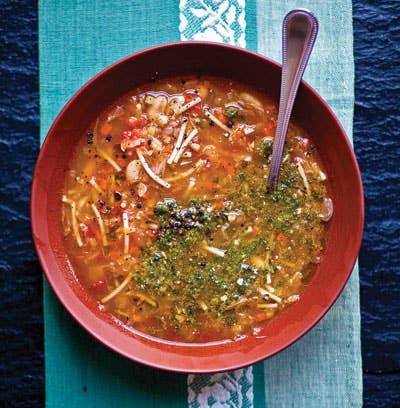 Pistou, the Provençal cousin of pesto, is stirred into this summer vegetable soup just before serving. This recipe first appeared in SAVEUR issue #140, along with Laura Schenone's story Glorious Pesto. To make this recipe vegetarian: omit the pancetta and substitute vegetable stock for the chicken stock.
Ingredients
For the Pistou
4 cups packed basil
1 cup grated parmesan
1⁄4 cup extra-virgin olive oil
1 tsp. kosher salt
2 cloves garlic, chopped
1 plum tomato, cored
For the Soup
1⁄4 cup extra-virgin olive oil
1 oz. pancetta, minced
5 cloves garlic, finely chopped
3 medium carrots, peeled and finely chopped
2 stalks celery, finely chopped
1 yellow onion, finely chopped
1⁄2 medium zucchini, chopped
1⁄4 head Savoy cabbage, cored and thinly shredded
8 cups chicken stock
7 whole peeled canned tomatoes, chopped
1⁄3 cup broken dried spaghetti
1 (15-oz.) can cannellini beans
Kosher salt and freshly ground black pepper, to taste
Instructions
Step 1
Make the pistou: Process basil, parmesan, oil, salt, garlic, and tomato in a food processor until finely ground. Season with salt and pepper, and set aside.
Step 2
Heat oil in a 6-qt. saucepan over medium-high heat; add pancetta and cook, stirring often, until fat has rendered, about 2 minutes. Add garlic, carrots, celery, and onions, reduce heat to medium; cook, covered and stirring occasionally, until crisp-tender, 12–15 minutes. Add zucchini and cabbage; cook, covered, until wilted, 3–5 minutes. Add stock and tomatoes, and bring to a boil. Add pasta and cook until al dente, about 8 minutes. Mash half the beans with a fork; add to soup along with whole beans—cook until warmed through. Season with salt and pepper. Ladle soup into bowls; serve with pistou dolloped on top.
Pairing Note: L'Esprit de Sainte Marguerite 2010, a grenache-syrah rose from Cotes de Provence, has a dry finish that pairs well with this summer soup.