Recipes
Sour Cream Ice Cream with Strawberries and Brown Sugar
Serves

makes about 1 1/2 quarts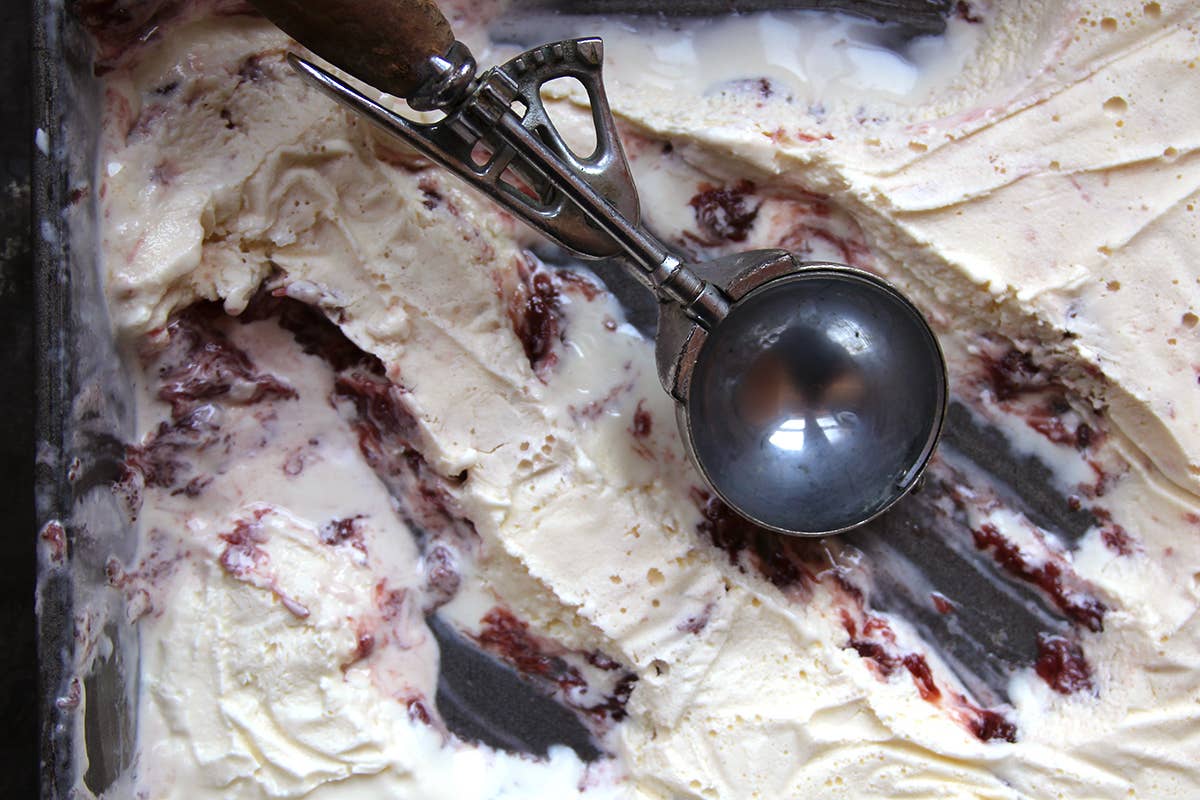 Sour cream gives this ice cream a tang that's balanced by a rich rum, strawberry, and brown sugar swirl.
Ingredients
1 lb. ripe strawberries, stemmed and quartered
1⁄3 cup light brown sugar
1 tbsp. corn syrup
1 tbsp. dark rum
1 tbsp. fresh lemon juice
1 tsp. kosher salt
1⁄4 tsp. freshly grated nutmeg
1 cup granulated sugar
4 egg yolks
1 1⁄2 cups heavy cream
1 1⁄2 cups sour cream
1 tsp. vanilla extract
Instructions
Step 1
Combine strawberries, brown sugar, corn syrup, rum, lemon juice, 1⁄2 tsp. salt, and nutmeg in a 2-qt. saucepan over medium-high heat. Bring to a boil, reduce heat to medium-low, and cook, stirring occasionally, until mixture has thickened to a jam-like consistency, about 35 minutes. Remove from heat and let cool completely.
Step 2
Meanwhile, whisk granulated sugar and yolks in a bowl until smooth; set aside. Bring remaining salt and cream to a boil in a 1-qt. saucepan over medium-high heat; let cool slightly. Slowly whisk hot cream into sugar mixture until smooth. Return to saucepan over medium heat and cook until mixture thickens and coats the back of a wooden spoon, about 15 minutes. Stir in sour cream and vanilla until combined; cover with plastic wrap, pressing it against the surface of the custard. Chill custard completely.
Step 3
Pour custard into an ice cream maker and process according to manufacturer's instructions until churned and thick. Transfer ice cream to a bowl, and swirl in strawberry mixture. Transfer to an airtight storage container; freeze until set, at least 4 hours.