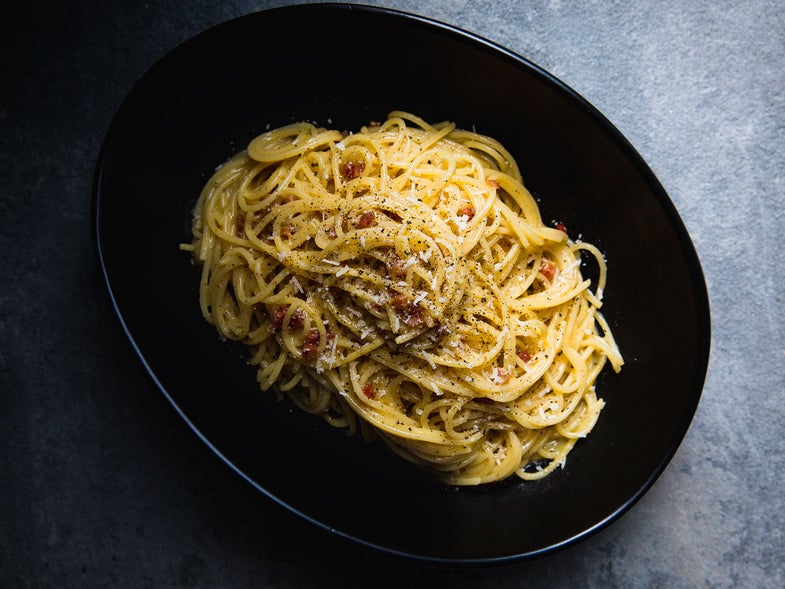 Real Roman spaghetti carbonara is pasta, whole eggs, pancetta or guanciale (cured pork jowl), and pecorino romano cheese—never cream. The sauce should gild, not asphyxiate, the noodles. It can be enjoyed at any hour, but the ideal time is dawn, after a night of revelry. I've found that carbonara is also a foolproof way to a man's heart—unless he's watching his cholesterol. — Mei Chin, from "Roman Art" (March 2007)
Spaghetti Carbonara
The perfect spaghetti carbonara recipe calls for real Roman pasta carbonara, whole eggs, pancetta or guanciale (cured pork jowl), and pecorino romano cheese—never cream.
Ingredients
3 tbsp. extra-virgin olive oil
4 cloves garlic, peeled and crushed
10 oz. pancetta, cut into 1/2″-long x 1/4″-square strips
2⁄3 cup white wine
1 lb. dried spaghetti
2⁄3 cup finely grated Parmesan
1⁄4 cup finely grated pecorino Romano
2 tbsp. finely chopped parsley
2 eggs
Kosher salt and freshly ground black pepper, to taste
Instructions
Heat oil in a 12″ skillet over medium-high heat. Add garlic, and cook until golden, about 1 minute. Remove and discard garlic. Add pancetta, and cook until edges are crisp, about 6 minutes. Add wine, and cook until thickened, about 3 minutes. Remove from heat.
Bring a pot of salted water to a boil. Add spaghetti, and cook until al dente, about 7 minutes. Drain, reserving 1⁄4 cup pasta water. In a large bowl, whisk together Parmesan, pecorino, parsley, and eggs; while whisking constantly, slowly drizzle in reserved pasta water until smooth. Add spaghetti along with reserved pancetta mixture. Season with salt and a generous amount of pepper. Toss to combine, and serve immediately.