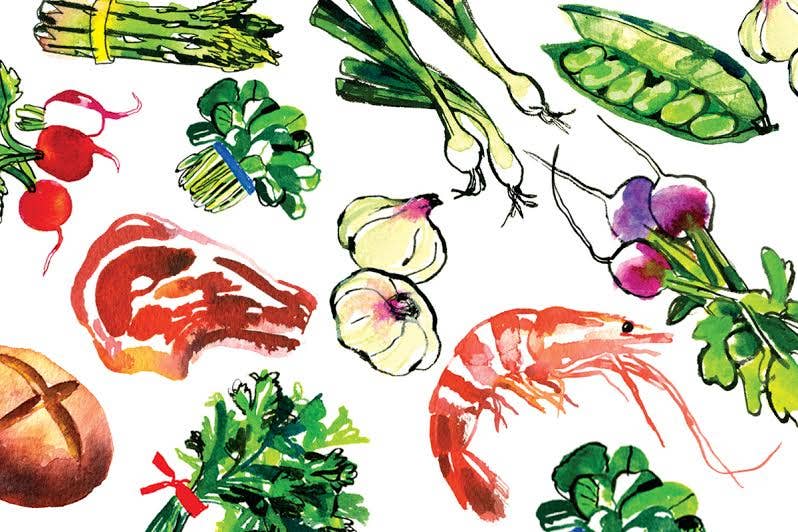 Salads like this one are often served in Vietnam as appetizers, or as small meals between lunch and dinner.
**1 tbsp. tamarind pulp
2 tsp. sugar
2 tbsp. Vietnamese fish sauce (nớc mắm)
1 tbsp. fresh lime juice
1 large clove garlic, peeled and minced
1 fresh hot red chile (Thai or serrano), thinly sliced
1 medium tomato, cut into small wedges
1/4 medium yellow onion, peeled and diced
Vegetable oil
1 lb. cleaned squid bodies
1/2 cup roughly chopped fresh holy or sweet basil
1/2 cup roughly chopped fresh cilantro **
1. Dissolve tamarind pulp in 1/4 cup warm water in a small bowl. Strain through a fine sieve into a larger bowl, pressing pulp with the back of a spoon. Discard pods, but scrape excess pulp clinging to outside of strainer into bowl. Add sugar, fish sauce, lime juice, garlic, and chile; stir until sugar dissolves. Add tomato and onions. Set aside for 1 hour.
2. Lightly coat a nonstick skillet with oil and heat over medium-high heat. Cut squid into 2'' pieces and cook in batches, stirring occasionally, until juices exuded by squid evaporate, about 5 minutes. Transfer to dressing, add basil and cilantro, and toss. Serve warm, or refrigerate and serve chilled.