Recipes
Mee Teow (Stir-Fried Rice Vermicelli with Black Pepper and Chinese Chives)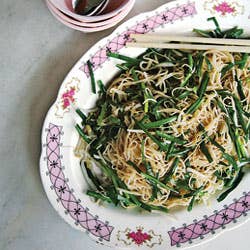 Lip-curlingly pungent and utterly delicious, this garlic-and-pepper-seasoned dish is southern Thai, through and through.
Ingredients
5 oz. rice vermicelli noodles
30 Chinese chives, trimmed and cut into 1/2" pieces (about 2 cups)
2 cups mung bean sprouts
2 cloves garlic, roughly chopped
4 tsp. peanut oil
1 tbsp. soy sauce
2 tsp. shaxing jiu (Chinese rice wine)
2 tsp. freshly ground black pepper
Salt, to taste
Instructions
Step 1
Bring a medium pot of water to a boil. Add rice vermicelli noodles; press down to submerge noodles. Immediately cover pot and turn off heat; let rest for 3 minutes. Drain noodles, rinse well in cold water, and drain again. Cut noodles in half and spread them out on a paper towel–lined sheet tray and set aside to let dry slightly, 2–3 minutes.
Step 2
Meanwhile, heat peanut oil in a large nonstick skillet over medium-high heat. Add garlic and cook until golden, about 30 seconds. Add Chinese chives and cook until just softened, about 30 seconds. Reduce heat to medium-low, add 2 cups mung bean sprouts, soy sauce, shaoxing jiu, freshly ground black pepper, salt, and reserved noodles, and toss together. Cook until chives are wilted, about 1 minute more. Serve immediately.