Recipes
Sudado de Pescado (Huanchaco-Style Fish Stewed in Tomatoes and Chiles)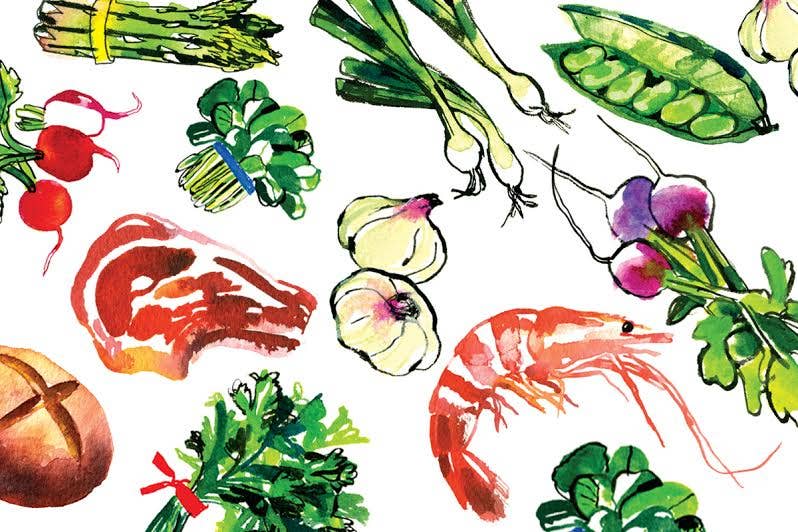 This simple stew, seasoned with tomato, garlic, onions, and chiles, represents a typical way of preparing fish throughout northern Peru. This version comes from two sources, Miriam Soles, the wife of a fisherman in the village of Huanchaquito, and the Isla sisters, the cooks at Restaurante El Caribe in Huanchaco. Look for fruity aji escabeche chiles at your local Latin market.
Ingredients
2 lb. boneless skinless grouper filets, cut into 6 pieces
2 Tbsp. fresh lime juice plus 6 lime halves
2 Tbsp. chopped fresh cilantro
2 tsp. salt
1 tsp. freshly ground black pepper
8 fresh or frozen aji escabeche (yellow Andean), Holland, or banana chiles (4 seeded and chopped, 4 thinly sliced)
1⁄4 cup canola oil
4 cloves garlic, mashed to a paste
1 medium red onion, halved and cut into 1/2" slices
2 large plum tomatoes, cored, seeded, and coarsely chopped
1 tsp. dried oregano, lightly toasted in a dry, hot pan
Boiled Yuca
3" chunks of boiled sweet potatoes (North American yams or Caribbean boniato; optional)
Instructions
Step 1
Put the grouper, lime juice, cilantro, salt, and pepper into a large bowl; toss gently to combine.Let grouper marinate at room temperature while you continue with the rest of the preparation. Puree the chopped chiles and 1⁄3 cup water in a blender until smooth. Set the chile puree aside.
Step 2
Heat oil in a large skillet over medium-high heat. Add garlic and cook until fragrant, 30 seconds. Carefully add reserved chile puree and cook for 2 minutes. Add onions and cook, stirring constantly, until softened, about 5 minutes. Gently lay grouper filets in skillet, along with marinade and 1 cup hot water, and stir liquid gently to combine. Top filets evenly with remaining chiles and tomatoes and sprinkle with oregano. Reduce heat to medium-low and simmer, covered, until grouper filets are cooked through, about 15 minutes. Season with salt and pepper to taste. Divide grouper filets between 6 shallow bowls, along with the liquid. Serve immediately with lime halves and boiled yuca and sweet potato (if using).