Recipes
Plantain Fritters with Stewed Shrimp (Tostones con Camarones Guisados)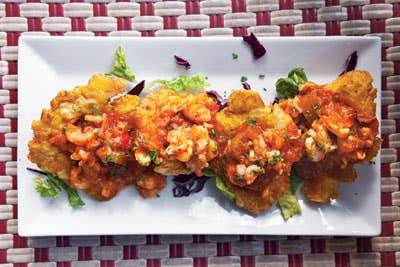 In this recipe, simple fried plantains are topped with a bright shrimp and tomato sauce. This recipe first appeared in our December 2011 issue along with Kathleen Squires's story Island Holiday.
Ingredients
1 tbsp. canola oil, plus more for frying
8 oz. large shrimp, peeled, deveined, and finely chopped
2 tbsp. sofrito
1 tbsp. tomato paste
1 plum tomato, finely chopped
3 green plantains, cut diagonally into 1″-thick rounds
2 tbsp. kosher salt
Instructions
Step 1
Make the shrimp: Heat 1 tbsp. oil in a 10″ skillet over medium-high heat. Add shrimp, sofrito, tomato paste, and tomato; cook until shrimp are cooked through, about 6 minutes. Season with salt and pepper; chill.
Step 2
Make the fritters: Pour oil to a depth of 2″ in a 6-qt. Dutch oven; heat over medium-high heat until a deep-fry thermometer reads 350°. Fry plantains until soft, about 8 minutes. Drain; smash each piece into a disk with the back of a skillet. Increase oil temperature to 375°. Fry disks until crisp, about 4 minutes; drain. Arrange fritters on a platter; top with shrimp salsa.