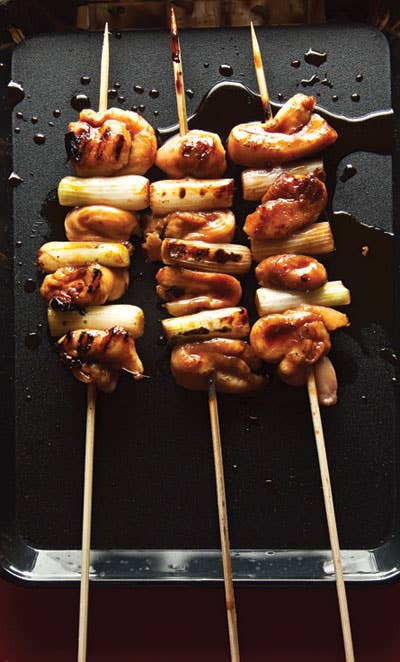 Recipes
Negima Yakitori (Chicken and Scallion Skewers with Yakitori Sauce)
These simple skewers gain loads of flavor from a basting of homemade yakitori sauce, a versatile marinade for most any meat or vegetable. This recipe first appeared in the 2012 SAVEUR 100, with the article Real Yakitori Sauce.
4 whole, bone-in chicken legs
2 cups mirin
2 cups soy sauce
1 cup dry sake
2 tbsp. packed dark brown sugar
2 tsp. freshly ground black pepper
16 large scallions, cut into 1″ lengths
5 cloves garlic, crushed
1 2″ piece ginger, peeled and thinly sliced
1. Make the yakitori sauce: Arrange an oven rack 4″ from broiler and heat broiler to high. Remove bones from chicken legs and cut bones into 1″ pieces. Cut chicken meat into ¼″-thick slices; refrigerate until ready to use. Transfer chicken bones to a foil-lined baking sheet; broil, turning, until browned all over, about 10 minutes. Transfer bones to a 4-qt. saucepan and add mirin, soy sauce, sake, sugar, pepper, green parts of scallions, garlic, ginger, and 1 cup water; bring to a boil, and then reduce heat to medium-low. Cook until liquid is reduced by half, about 1½ hours. Pour through a fine strainer into a bowl; let yakitori sauce cool.
2. Meanwhile, soak 16 wooden skewers for 30 minutes; drain. Working with 1 skewer at a time, alternately thread 4 slices chicken with 3 pieces of the white parts of scallions, piercing chicken slices through their ends to form folded slices and piercing scallion pieces perpendicular to skewer.
3. Build a medium-hot fire in a charcoal grill or heat a gas grill to medium. (Alternatively, heat a cast-iron grill pan over medium-high heat.) Add skewers, and cook, turning, until beginning to brown, about 6 minutes. Brush with yakitori sauce and continue cooking, turning and basting with sauce every 30 seconds, until cooked through and sauce forms a glaze on chicken, about 2 minutes more. Transfer to a serving plate and drizzle with more yakitori sauce; serve immediately.