Recipes
Jalapeño Poppers
Skip the freezer section: It's worth making the ultimate cheese-filled bar snack at home.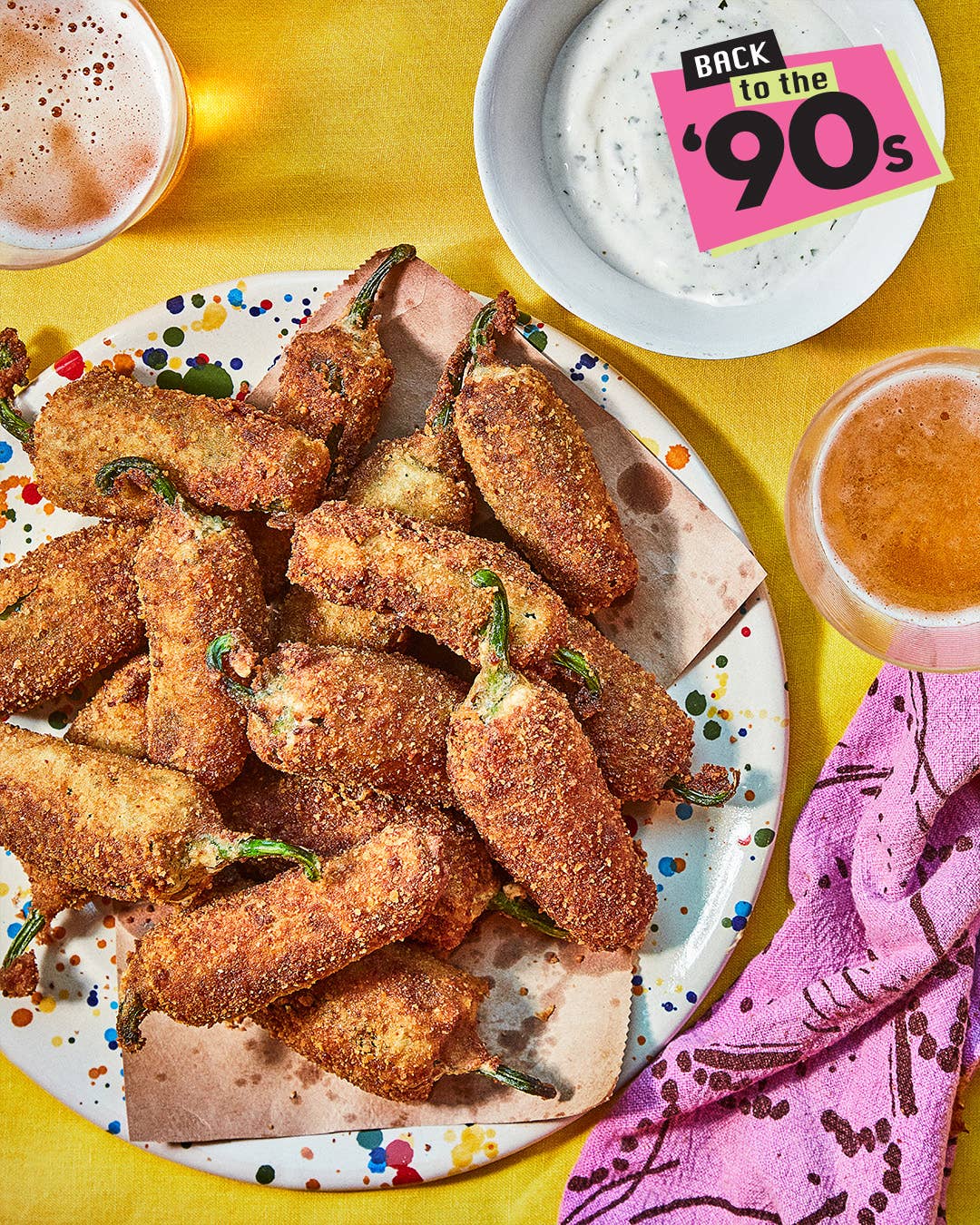 The classic jalapeño popper recipe (a whole green chile, filled with cheese then roasted or fried) has roots in the Mexican chile relleno, which goes back to the 1800s or earlier. Indeed, the jalapeño popper's flavor profile is similar to its ancestral stuffed pepper: the two share a beguiling combination of creaminess and spicy heat.
This recipe is adapted from one which first appeared in the 2012 SAVEUR 100.
Ingredients
18 medium jalapeños
2 Tbsp. vegetable oil, plus more for frying
4 oz. shredded cheddar cheese (about 1½ cups)
2 oz. shredded Monterey Jack cheese (about ½ cup)
1 oz. finely grated Parmesan cheese (about ½ cup)
¼ cup heavy cream
1 tsp. Dijon mustard
½ tsp. ground cumin
¼ tsp. cayenne pepper
¼ tsp. ground coriander
¼ tsp. paprika
Kosher salt and freshly ground black pepper, to taste
1 cup all-purpose flour
2 large eggs, lightly beaten
1 cup plain bread crumbs
Instructions
Step 1
Position an oven rack 4 inches from the broiler, and preheat the broiler to high; line a baking sheet with aluminum foil. Toss together the jalapeños and oil on the prepared baking sheet; broil, turning with tongs, until charred all over, about 20 minutes. Set aside to cool to room temperature.
Step 2
Meanwhile, in a food processor, blend the cheddar, Monterey Jack, Parmesan, cream, mustard, cumin, cayenne, coriander, paprika, salt, and black pepper to a smooth paste. Use a silicone spatula to scrape the cheese mixture into a piping bag fitted with an ⅛-in. plain tip.
Step 3
Use a small sharp knife to trim ¼ inch off the bottom of each jalapeño and scrape to remove the seeds and ribs. (For spicier poppers, leave the seeds inside, if you like). Insert the piping bag tip into each pepper and fill with the cheese mixture. Transfer to a plate and refrigerate until the filling is firm, about 1 hour.
Step 4
To three shallow bowls, add the flour, beaten egg, and bread crumbs; season each bowl with salt and black pepper. Toss each chilled pepper in the flour, shaking off excess, and then dredge in the beaten egg. Toss in the bread crumbs until well-coated, then transfer to a plate set by the stove.
Step 5
To a large Dutch oven fitted with a deep-frying thermometer, pour the oil to a depth of 2 inches. Turn the heat to medium-high until the temperature reads 330°F. Working in batches, fry the peppers, turning with tongs, until golden brown all over, about 3 minutes per batch. Transfer the peppers to a paper towel-lined plate to cool before serving.