Homemade Jalapeño Poppers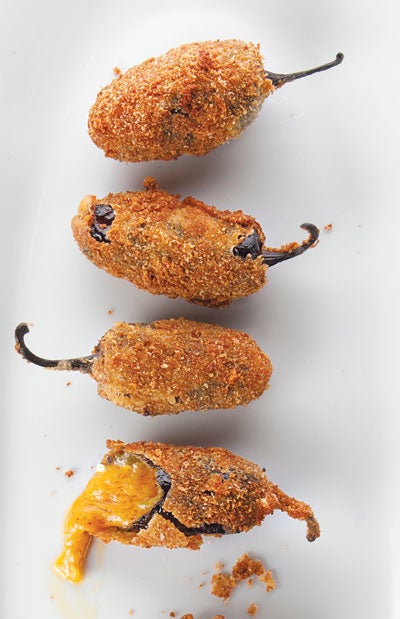 Packed with a spicy, cheesy filling, these roasted and fried jalapeños gain depth from charring under the broiler and a crispy crust from the bread crumb coating. This recipe first appeared in the 2012 SAVEUR 100, with the article Homemade Jalapeño Poppers.
Yield: makes about 1 1/2 dozen
Ingredients
2 tbsp. canola oil, plus more for frying
18 jalapeños
1 1⁄2 cups (4 oz.) shredded cheddar
1⁄2 cup (2 oz.) shredded Monterey Jack
1⁄2 cup (1 oz.) finely grated Parmesan
1⁄4 cup heavy cream
1 tsp. Dijon mustard
1⁄2 tsp. ground cumin
1⁄4 tsp. ground coriander
1⁄4 tsp. cayenne pepper
1⁄4 tsp. paprika
Kosher salt and freshly ground black pepper, to taste
1 cup flour
2 eggs, lightly beaten
1 cup plain bread crumbs
Instructions
Arrange an oven rack 4″ from broiler and heat broiler to high. Toss together oil and jalapeños on a foil-lined baking sheet; broil, turning as needed, until charred all over, about 20 minutes. Meanwhile, process cheeses, cream, mustard, cumin, coriander, cayenne, paprika, and salt and pepper in a food processor until smooth. Transfer to a piping bag fitted with a 1⁄8″ plain tip, and set aside.
Trim 1⁄4″ off the bottom of each jalapeño and, using a paring knife, scrape the seeds and ribs from inside the pepper and remove (or for spicier poppers, leave the seeds inside, if you like). Insert piping bag tip into each pepper, and pipe until cheese mixture fills the inside; refrigerate to firm filling, about 1 hour.
Pour oil to a depth of 2″ in a 6-qt. Dutch oven and heat over medium-high heat until a deep-fry thermometer reads 330°. Place flour, eggs, and bread crumbs into 3 separate shallow bowls; season each with salt and pepper. Toss each pepper in flour, dusting off excess, and then coat in egg. Transfer to bread crumbs; toss until evenly coated. Working in batches, fry peppers until golden brown and filling is melted, about 3 minutes. Transfer to paper towels to drain before serving.