Crab: to Boil or to Steam?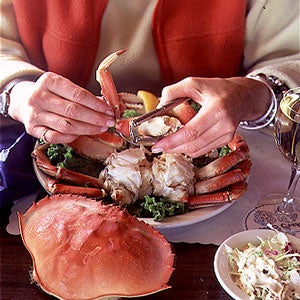 Live dungeness crab is now available across the country for much of the year. Boiling is the traditional way of cooking it: Bring a large pot of salted water to a vigorous boil over high heat. Add a little vinegar, a bouquet garni, and a few peppercorns, then toss in 1 or 2 crabs and boil for 8-10 minutes.
On the other hand…steam them. Add water about 2 inches up the side of a deep pot, then suspend a strainer over the water. Place 1 or 2 crabs in the strainer, depending on its size. Use aluminum foil to cover tightly, and steam over high heat for 20 minutes. The crab will be filled, not with water, but with delicious, undiluted juices.