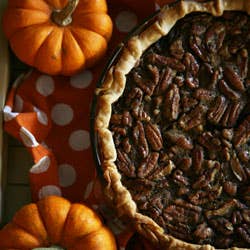 Drinks
Dessert Wines for Thanksgiving
Sweet wines may get a bad rap, but when it comes to fall desserts, they're the perfect pairing
Sweet wines have a bad reputation in the United States as cheap, watered-down alternatives to the more refined, dry styles. Keep your sticky white zins to yourself, I thought when I began getting interested in wine. I'll drink my zippy sauvignon blancs and tannic cabernets. But then I discovered the wine that changed my mind: on a visit to South Africa's Glen Carlou Wine Estate, I tasted through their portfolio, which included a sweet wine made from 100 percent chenin blanc grapes. I was hesitant when they handed me the glass, but rather than the cloying sweetness I anticipated, I found a surprise instead — a purity of flavor that I had never before experienced, one that the sweetness itself enabled.
Slowly but surely, I uncovered the long history and even more surprising quality of sweet wines, dabbling in German rieslings, tasting through Hungarian tokaji, sipping on Canadian ice wine. Sweet wines throughout the world are produced with different grapes and different methods: some require the grapes to be affected by the noble rot botrytis before being hand picked and pressed; in cold, arid conditions, the grapes hang on the vine so long that they freeze before being harvested. But whatever the method, the ultimate goal is the same: to extract a little bit of concentrated nectar from a tiny, shriveled grape.
Because these grapes are so dehydrated, they produce very little juice, and the amount needed to produce a single glass of sweet wine is astounding. That high production cost, combined with the risk of losing a harvest, results in wines that tend to be more expensive. But for a truly great sweet wine, even a sip at a dear price is worth it. And really, a sip is all you need.
These sweet wines are perfect for a Thanksgiving table:
Chateau Rieussec 2006 Sauternes ($50)
The Sauternes region of Bordeaux is famous for its sweet, botrytized wines. A wide range of dried fruits, from golden raisins to dried apricots, are apparent on the nose of the Rieussac, but it still maintains a lightness that more sophisticated bottles lack — it's perfect for a sweet wine beginner or a long-time lover of Sauternes. Its flavors linger in the mouth as you enjoy a little pecan pie.
Inniskillin 2006 Gold Vidal ($75)
Vidal is a hardy, hybrid grape that's become the star of Canada's ice wine industry; due to the region's consistent annual winter conditions, they produce high-quality dessert wines year after year. This bottle has a sweet, floral nose with just a hint of tar; its deep, rich texture fills the mouth with luscious tropical and melon fruit. Pair it with a pear tarte tatin to complement the nutty flavors of the caramelized fruit.
Royal Tokaji 5 puttonyos 2006 ($30)
The Hungarians have been making delicious sweet wines from local Furmint and Harslevelu grapes for centuries. This intensely sweet wine is characterized by its bright, clean notes of stone fruit, coconut, and honey; it would go splendidly with desserts that have a little nut or spice, like a spiced pumpkin cake.
Blandy's 15 Year Old Malmsey ($40)
If any wine is perfect for Thanksgiving desserts, it's Madeira. Notes of candied orange peel, sweet spice, raisins, nuts, and figs abound, with an overall taste of caramel that lingers after each sip. It's great with most seasonal desserts, especially a rocking combo like Thanksgiving Twofer Pie, a mix of traditional pumpkin and pecan pies in one crust.